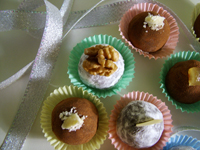 This easy recipe has been a staple of our family Christmas's for more years than I care to remember and it is perfect for tailoring to individual preferences. Your standard box of bought chocs includes a wide selection in the belief that there is something for everybody but what if there are only two types you really love in the entire box? I have a list somewhere detailing our families' particular favourites (and also their dislikes) so that I can give them a whole box full that they can really enjoy. Even some that I have never found in shops! Let your imagination run riot and don't be afraid to experiment. After all, you can always eat the mistakes! As I bake anyway I have things like stem ginger and flaked almonds in my cupboard but rather than buy loads - which rather defeats the thrifty intention - why not go shares with a friend, use up bits that you already have or limit yourself to a dusting of cocoa powder or icing sugar.The batch I made for the Chrissy B Show cost me about £3.00 for the basic truffle ingredients using Tesco's own mid-price plain chocolate. This made about 45 Ferrero Rocher sized truffles.
1lb (450g) plain chocolate, broken into small pieces
7 fl.oz (200ml) double cream
1oz (25g) unsalted butter
Icing sugar and cocoa powder for dusting; a selection of nuts, cherries, stem ginger, white chocolate or whatever else takes your fancy (optional).If adding liqueurs this needs to be added a little at a time - to taste - to the melted mixture BEFORE it is poured into the tin.
Line your shallow tin (approx 8" by 12" by 1" deep) with non-stick baking parchment.
Heat the cream and butter together in a solid based saucepan until they come to the boil.
Take the pan off the heat and add the chocolate, stirring until it has completely melted and you have a thick glossy mixture.
Pour the mixture into the shallow tin and leave in a cool place for several hours to set.
Using a teaspoon, cut off small pieces of truffle mixture and shape into balls, gently and briefly softening each piece between your fingers first.( If the mixture gets too sticky you can dip your fingers in a little icing sugar as you work). If you are including anything within the truffle itself -such as chopped nuts - then add a little to the ball with each truffle layer you add. Or if it's a cherry (or similar), start with it in the centre and form the truffle layers to encase it. Dust with icing sugar, cocoa powder or coating of your choice and pop into a paper petit four case (white are cheapest, can be recycled afterwards and are available in most supermarkets).
You can cover and re-use an old chocolate box to present them in, buy one from a craft/gift shop or make your own. I think I will run a little competition for the best suggestions. Watch this space!
* It is best to store the truffles in an airtight container in the fridge if they are to be stored for any length of time. If you have tailored your gift accurately then this precaution should not be necessary!!!