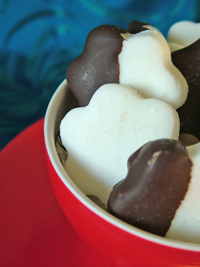 I have very clear memories of making these as quite a small child at Christmas with my mum. They need 24 hours to dry before eating or dipping in melted chocolate. My mum used to put the trays on top of the night storage heaters but they are probably best placed these days where little (or big) fingers cannot reach them as they are drying! We used to use the apple corer for pressing out the little round shapes from the mixture but this makes sweets that are on the small side and doesn't give you much to hold on to if you want to dip half the sweet in chocolate. I used the smallest flower shape from a set of flower shaped biscuit/icing cutters but supermarkets and pound shops often have something similar in the cookery section. Toy sections in shops like Wilkinson sometimes sell similar cutters for Playdough. You could also simply form the mixture into little balls and flatten with your hand to make discs that way. Experiment to see what size works best for you. Makes about 50 depending on the size of the cutter or balls.
You will need:-
1 medium egg white
425g icing sugar, sifted, plus extra for rolling out
1 tsp lemon juice
a few drops of peppermint flavouring
a few squares of dark or milk chocolate for dipping (optional)
Lightly whisk the egg white using a rotary whisk or electric mixer until it is frothy but not quite holding its shape.
Gradually stir in the sifted icing sugar and lemon juice until you have a pliable fondant paste.
On a surface dusted with the extra icing sugar, knead in the peppermint flavouring a few drops at a time until you have the flavour you like. Do not be tempted to tip a lot in at once. You cannot take it out again if you have made the flavour too strong!
Roll out to a 1cm thickness and then cut out with your chosen shape. If you find the cutter is sticking to your cut shapes so that you cannot get the shape out, try dusting the cutter with a little icing sugar first. Keep re-rolling and cutting the excess paste. If it gets too dry dab a couple of drops of water onto the mixture with your fingers. No more or it will become unbelievably sticky! Once the paste is pliable again you can resume rolling and cutting.
Place the cut shapes on a tray or plate lined with greaseproof paper and leave them to dry for 24 hours. I tried putting them on a plate dusted with icing sugar to dry but they still stuck to the plate and some broke as I tried to prize them off. The greaseproof paper will simply peel away.
These sweets are lovely just as they are or you can dip half of each sweet in chocolate that you have previously melted in a heatproof bowl suspended over a pan of simmering water. Wipe off the excess chocolate with a teaspoon and let it drip back into the bowl. Leave the shapes to cool and harden back on the greaseproof paper. Depending on the size they can be served in the same paper cases as the Rich Chocolate Truffles or wrapped in small squares of tissue paper, twisted at the ends like boiled sweet wrappers.
Storing them in an airtight tin once dry will prevent them from becoming too hard to bite.