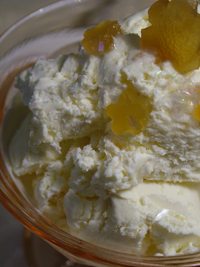 I absolutely love stem ginger so any recipe that includes it is bound to be a hit with me. This recipe comes from James Martin's book Desserts, is very simple to make and doesn't even need an ice cream machine. The syrup stops the ice cream from setting like rock and it's inclusion makes use of something that might otherwise be wasted. My daughter, Lu', loves this recipe so much that the rest of the tub is waiting in the freezer for her to come home for Christmas! Having cut up some stem ginger for the mixture itself I was stuck for a decoration for the photograph. Then I had a bright idea. I remembered some blossom cutters for icing that I bought some years ago. I cut the small flowers from slices of stem ginger and then cut the bigger flower freehand. Then I added some edible magic sprinkles left over from cake decorating. See where a little thinking outside the box gets you - being creative!!! You can double up the quantities if you have more cream to use up or halve them if you have less. One jar of stem ginger can last for ages; a little goes a long way.
200ml double cream
3tbsp stem ginger syrup
25g stem ginger, finely chopped
Simply place the double cream and stem ginger syrup in a bowl and whisk until soft peaks are formed. An electric mixer or rotary whisk makes this much quicker.
Stir in the finely chopped stem ginger
Pour the mixture into a sealable container, place in the freezer and freeze until required
Ten minutes at room temperature before serving helps with serving it up.