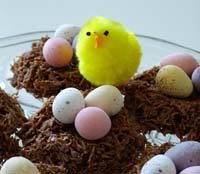 We have been making this recipe at our house for as long as I can remember so I really cannot recall where it came from originally. If you cannot get hold of Mini Eggs then some shops do their own versions that are similar or you can often get them from pick and mix sweet counters. If there is a chance that little fingers might appropriate the eggs before their time you could 'glue' them in with an extra bit of melted chocolate!The quantities given will make ten nests of a size suitable to hold three little eggs (if you don't eat any of the mixture while you are making them!!!)
Ingredients:-
200g bar of milk chocolate
2 individual sachets of Shredded Wheat, each containing two bars (4 in all)
Mini eggs - 3 per nest
Fluffy chick to decorate (optional)!
Pour some boiling water into a large pan and then sit a heatproof bowl firmly in the top so the steam cannot escape. Chop up the bar of chocolate and add to the bowl. It is important not to get water in the chocolate. Do not melt the chocolate directly in a pan as it will overheat and spoil. The warmth of the bowl should start to melt the chocolate straight away. If it doesn't, put the pan over the lowest heat your hob will do and stir the chocolate to melt.
Meanwhile little helpers can be crumbling up the shredded wheat in another bowl. Try to break up the tough edge bits and leave the middle bits quite long as you break the bar up. This is to give enough texture to your nest.
Once the chocolate is melted, lift the bowl out of the pan (it will be hot and wet) and sit it on a cloth or teatowel so it doesn't slip. Stir in the shredded wheat. Try to coat all the shredded wheat with melted chocolate without breaking it up.
When all the shredded wheat is well coated you will need to leave it for a while to cool. Check at ten minute intervals to see if it will hold together without sticking too much to your fingers. Cover a dinner plate or small heatproof tray with some greaseproof paper and heap little mounds onto it, one at a time. The trick is to get the nest to stick together without sticking too much to your fingers. I make an indent in the top with the back of a teaspoon to hold the eggs in and then squeeze the sides again lightly to hold it together. Chill in the fridge when you have done all ten.
Congratulate yourself on your patience and thriftiness!