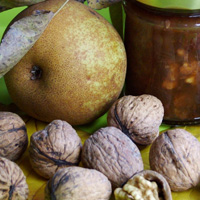 Of all the chutneys I make, this one usually gets the most applause. The recipe comes from The Encyclopedia of Sauces,Pickles and Preserves by Catherine Atkinson et al. The book has some excellent recipes that are just that bit different from those in your run-of-the-mill preserving book!
Ingredients:-
1.2kg firm pears
225g tart cooking apples
225g onions
450ml cider vinegar
175g sultanas
Finely grated rind and juice of 1 orange
400g granulated sugar
115g walnuts, roughly chopped
½ tsp ground cinnamon
Peel and quarter the onions and chop into 1 inch chunks. Peel and core the fruit and chop into chunks of the same size. Place in a preserving pan with the vinegar.
Slowly bring to the boil, then reduce the heat and simmer for 40 minutes, until the apples, pears and onions are tender, stirring the mixture occasionally.
Meanwhile, put the sultanas in a small bowl, pour the orange juice over them and leave to soak.
Add the sugar, sultanas, orange juice and rind to the pan. Gently heat until the sugar has dissolved, then simmer for 30-40 minutes, or until the chutney is thick and no excess liquid remains. Stir frequently towards the end of cooking to prevent the chutney from sticking to the bottom of the pan.
Gently toast the walnuts in a non-stick pan over a low heat for 5 minutes, stirring frequently until lightly coloured. Stir the nuts into the chutney with the cinnamon.
Spoon the chutney into warmed sterilized jars, cover and seal. Store in a cool, dark place and leave to mature for at least one month. Use within one year.