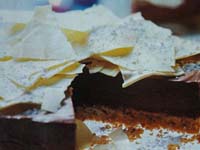 This recipe has been adapted from one published in She magazine some considerable time ago. The original is made with hazelnuts instead of almonds. I will include the option to make either. The original was described as ".. very rich and impressive but doesn't require much effort". I have made it at Christmas - as an alternative to Christmas pudding - but it is also lovely and chocolatey for Easter. It can be made a few days in advance. PLEASE NOTE: this recipe has been included because the cost per portion is quite reasonable compared with similar chocolate recipes, buying something like it pre-made or indeed ordering a sweet in a restaurant! At the time of writing the entire cost is about £6.00-£7.00 buying everything from scratch (without the alcohol) but it will serve 12 to 20 depending on portion size. It is very rich. I would advise serving small portions and offering seconds to the hungry/greedy! **It is not essential to use expensive chocolate; costings are based on the next range up from Value/Basic.
Ingredients:-
100g flaked almonds*
150g Rich Tea biscuits
125g butter
450g good plain chocolate,chopped**
4 tbs golden syrup
3-4 tbsps orange liqueur or brandy (optional)
568ml (1pint) double cream
white chocolate flakes, to decorate
Oil a 23cm (9in) spring release tin. Line the base of the tin carefully with a circle of greaseproof paper.

Melt the butter in a saucepan. Roughly break up the almonds and lightly crush the biscuits (I use the end of a wooden rolling pin for both). Do not reduce them to dust! Combine the melted butter with the biscuits and almonds and press into the base of the prepared tin, pushing down firmly with the back of a spoon or your fingers. Chill while making the filling.

Melt the chocolate in a heatproof bowl standing over a pan of simmering water. Add the syrup and liqueur (if using).

Whip the cream until it's thick and almost holds its shape (but not so thick that it's stiff enough to pipe). Mix a couple of spoonfuls into the chocolate mixture to thin it down. Fold the two mixtures together and stir gently until thoroughly combined. Pour into the tin on top of the biscuit base. Chill overnight (at a pinch, about 6 hours in the fridge should do the trick).

To make the white chocolate flakes:- Cut a length of non-stick baking parchment into strips about 5cm wide. Melt one large bar of white chocolate in a clean bowl as above. Spread a thin layer of chocolate in a wide strip across two lengths of baking parchment at a time. Lay side by side on a baking sheet and freeze for 10 minutes or until set. Carefully peel off the paper - it should come off really easily. Repeat with the remaining chocolate (you can re-use the paper strips). Break into large rough sections and decorate the top of the cake prior to serving.

Sift a little icing sugar over the top for a professional touch. Any spare chocolate flakes can be stored in the fridge or freezer, layered between greaseproof paper in a freezer proof tub.
* Alternatively, the base for this recipe can be made using 100g of hazelnuts instead of almonds. They will need lightly toasting under the grill and the skins rubbing off in a cloth or teatowel. Chop finely and continue as above.