The Basic Meringue Recipe (adapted from Easy Living magazine)
These are very easy to make but they are commonly thought to be difficult. You will get a lot of 'oohs' and 'aahs' as you serve them up and 'I shouldn't really' comments but watch how quickly they disappear. Of all the things I bake, these are the most drastically different from the shop-bought variety (and that's any shop, even the one with the persuasive television advertising)! Serve with whipped cream and any fresh fruit in season.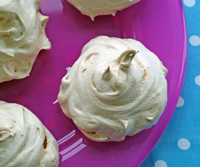 3 large egg whites
175g (6oz) caster sugar
pinch of salt
Heat the oven to Gas Mark 1, (140 degrees C)*. Line a large, square baking tray with baking parchment.
Place the egg whites and pinch of salt in a grease-free bowl and, using an electric mixer with a whisk attachment, whisk on a low speed for 1 minute.
Increase the speed to medium and whisk until the egg whites form stiff, white peaks (2-3 minutes approx.). If you lift the whisk attachment out of the bowl, the mixture should look fluffy and cling to it, while the peaks remain stiff and moist-looking.
Then, while continuing to whisk, gradually add the sugar a tablespoon at a time, until the mixture is stiff and glossy - this may take 5-10 minutes.
Using a large, metal spoon, place 10 free form shapes evenly around the the prepared baking tray.
Bake for 30-40 minutes or until the meringues are pale and dry. Turn off the heat and allow the meringues to cool in the oven. They are delicious sandwiched into pairs with whipped double cream or served with ice cream!
Tips:-
Egg whites should be at room temperature and free of any yolk.
The cooked meringues can be stored in an airtight container for up to two weeks.
To prevent the meringues from cracking, don't open the oven door during the first half of the baking time.
* Oven temperatures vary. My gas oven needs a higher heat for meringues. I pre-heat at Gas Mark 3 and turn it down to Gas Mark 2 when the meringues go into the oven. If in doubt, consult the manufacturer's instructions for your own oven.