In putting together this list, I'm mindful that recipes are technically other people's intellectual property and I would not wish to steal from anyone. My rationale is simple: if a recipe is in a book, then I will give the name of the book and the recipe and possibly a page number, so you can borrow/buy a copy yourself.If it is on a website, I will try and provide a link. Where a recipe has appeared in a past issue of a magazine, I will give the recipe and acknowledge the source (where known). For recipes that have been handed down to me, or that I have adapted from others, I feel at liberty to use these freely. I'm afraid that my oven temperatures are almost always given in terms of 'gas mark', as this is what I use myself.
The Basic Meringue Recipe (adapted from Easy Living magazine)
These are very easy to make but they are commonly thought to be difficult. You will get a lot of 'oohs' and 'aahs' as you serve them up and 'I shouldn't really' comments but watch how quickly they disappear. Of all the things I bake, these are the most drastically different from the shop-bought variety (and that's any shop, even the one with the persuasive television advertising)! Serve with whipped cream and any fresh fruit in season.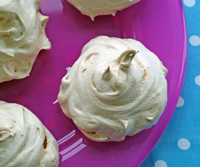 3 large egg whites
175g (6oz) caster sugar
pinch of salt
Heat the oven to Gas Mark 1, (140 degrees C)*. Line a large, square baking tray with baking parchment.
Place the egg whites and pinch of salt in a grease-free bowl and, using an electric mixer with a whisk attachment, whisk on a low speed for 1 minute.
Increase the speed to medium and whisk until the egg whites form stiff, white peaks (2-3 minutes approx.). If you lift the whisk attachment out of the bowl, the mixture should look fluffy and cling to it, while the peaks remain stiff and moist-looking.
Then, while continuing to whisk, gradually add the sugar a tablespoon at a time, until the mixture is stiff and glossy - this may take 5-10 minutes.
Using a large, metal spoon, place 10 free form shapes evenly around the the prepared baking tray.
Bake for 30-40 minutes or until the meringues are pale and dry. Turn off the heat and allow the meringues to cool in the oven. They are delicious sandwiched into pairs with whipped double cream or served with ice cream!
Tips:-
Egg whites should be at room temperature and free of any yolk.
The cooked meringues can be stored in an airtight container for up to two weeks.
To prevent the meringues from cracking, don't open the oven door during the first half of the baking time.
* Oven temperatures vary. My gas oven needs a higher heat for meringues. I pre-heat at Gas Mark 3 and turn it down to Gas Mark 2 when the meringues go into the oven. If in doubt, consult the manufacturer's instructions for your own oven.
Seville Orange Marmalade (from Delia Online)
Mawby's Thick Soup
This recipe belongs to my former husband, Mark, and I have been making it in the pressure cooker for the past twenty-odd years. He has just re-married and I would like to wish both him, and his new wife, Sue, much happiness together. Everybody who tries this soup comes back for more. You can vary the ingredients to suit your own preferences or for using up the last bits of things left in the fridge/freezer.
1 large onion
6oz (approx) of bacon (or I use bacon mis-shapes)
1 large potato
2 medium carrots
about 3 handfuls of dried yellow split peas
1 handful of frozen peas or petit pois
3 handfuls of frozen sweetcorn
Chop up the onion and brown in a couple of tablespoonfuls of olive oil in the base of a pressure cooker on a lowish heat.
While the onion is browning, chop the bacon into pieces and then add to the pan. Stir it to prevent sticking.
Peel the potato and carrots, chop into pieces and add them in as well. It helps to have someone to stir, if you can, whilst you prepare and add the ingredients.
Now include both lots of peas and sweetcorn, cook for a couple of minutes and then fill the pressure cooker half full with water. Give the contents a final stir, to ensure nothing is sticking to the bottomof the pan, and then add a few twists of black pepper. I don't add any salt till it's cooked as the bacon may have made the soup salty enough once it has cooked.
Put the lid on the pressure cooker, turn the heat up to full and time it for fifteen minutes once the pan is up to pressure. (You can lower the heat once pressure is reached). Release the steam quickly. Use a hand blender to puree the cooked soup and add salt if it needs it. Best served immediately with home-made brown bread! It tastes excellent re-heated and it can also be frozen.
All-in-one Banana and Walnut Loaf- Delia's online recipe is different to the one I usually make. The version I use can be found in Delia Smith's Complete Cookery Course, on page 514 of my elderly copy.
Chewy Ginger Biscuits
These are very fragrant and moreish and can fill your house with the delicious scent of home-baking. The recipe I adapted it from said that you could freeze them afterwards but we are lucky to get them further than the rack they cool on before they've all been eaten!
100g unsalted butter (at room temperature) or Flora - plus extra for greasing
175g caster sugar
1 medium egg
1 and a half tbsp golden syrup
250g plain flour
half a tsp of bicarbonate of soda
pinch of salt
2tsp of ground ginger
6oz (or vary to suit your taste) of crystallized ginger chunks, chopped
Pre-heat the oven to Gas Mark 4. Lightly grease two large baking trays. Beat the butter and sugar with an electric whisk until pale and creamy. Add the egg and golden syrup and continue beating until well combined. Sieve the flour, bicarbonate of soda, salt and ground ginger into the biscuit mixture and stir with a wooden spoon until combined. Stir in the chopped, crystallized ginger to distribute it evenly amongst the mixture.
Shape the sticky dough into 20 walnut-sized balls and place 10 on each tray, leaving enough space for them to spread as they cook. Bake for 12-15 minutes until golden (I give them 15 in mine).
Leave on the baking tray until cool, and firm, enough to transfer to a wire rack (they will be very soft as you take them out of the oven but firm up as they cool). Allow the cookies to cool completely before serving. Can be stored in an airtight container for up to four days (if you are lucky enough to get them as far as that)!
Strawberry Mascarpone Tart - The Kitchen Diaries Nigel Slater page 207. I used a combination of raspberries and strawberries in my version, which I felt prevented it from being too sweet. Try both!
Pork Chops with Cream and Mushrooms - the original version is in Delia Smith's Complete Cookery Course, page 521-22 or she has an improved version (that I've not tried) on her website. Excellent recipe for using up that last bit of cream in the pot and good if you are having friends round as once it's in the oven you can forget about it for an hour.
(Very Wonderful) Blueberry Muffins
I think these are great served warm, on a chilly day or, once they've cooled down, as an addition to any lunchbox or picnic. You can use raspberries, blackberries or strawberries instead of blueberries. *If you can't find buttermilk, you can use 100ml (3.5 fl oz) of natural yoghurt mixed with 200ml (6.5 fl oz) of milk. Apparently, baking powder can sometimes cause problems with recipes if you try to 'double-up' on the ingredients, so if you need extra muffins - say for a party - make two lots from scratch.
325g (11oz) plain flour
2 tsps of baking powder
half a teaspoon of bicarbonate of soda
185g (6oz) unrefined caster sugar
300ml (10 fl oz) buttermilk*
2 eggs, lightly beaten (I used large ones)
1 tsp vanilla essence
125g (4oz) unsalted butter, melted
200g (6.5oz) fresh or frozen blueberries (do not defrost first, if frozen)
2tbsp demerara sugar
Heat the oven to 190 degrees celsius (Gas Mark 4). Grease a 12-case muffin tin or line with paper cases.
Sift the flour, baking powder, bicarbonate of soda, sugar and a pinch of salt into a large bowl.
In a separate bowl, whisk the buttermilk, eggs, vanilla essence and melted butter together. Pour the egg mixture into the flour mixture and stir until just combined. Don't over-mix; the batter should not be smooth. Fold through the berries.
Fill the cups/paper cases two-thirds full and sprinkle the tops with demerara sugar. Bake for 20-25 minutes, or until the tops are golden and a skewer inserted into the centre comes out clean. Cool in the tin for five minutes before turning out onto a wire rack.
Ivy's Amazing Lemon Cake
This recipe belongs to our family friend, Ivy, who quite simply makes the best lemon cake we have ever tasted. She very kindly told me how to make it and I have adjusted the quantities slightly, to suit the larger dish that I had. I also added a little milk to make the mixture easier to spread in the larger dish. Thanks, Ivy; you're a star!
6oz soft margarine
6oz caster sugar
grated zest and juice of one lemon (the bigger, the better)
2 large eggs, beaten
6oz self raising flour
4 tbsp milk
granulated sugar
Pre-heat the oven to 180 degrees Celsius/ Gas Mark 4. Lightly grease a 9 inch square, ovenproof dish.
Beat the margarine with the caster sugar and lemon zest until light and creamy. Add one tablespoonful of the sieved flour (to prevent curdling) and then beat in the eggs. Fold in the remaining flour and stir in the milk.
Spoon the mixture into the prepared dish and ensure it is spread evenly with a spatula. Bake for 30-35 minutes or until the top is golden brown and firm to the touch.
When it comes out of the oven, let it settle for a few minutes, then spoon the lemon juice evenly over the surface of the cake. Sprinkle immediately with granulated sugar to taste. Serve from the dish when cool.*
* This tastes even better the next day when the lemon juice has soaked right down through the sponge!