When I first began putting this blog together, I created a list of categories that I initially thought would encompass the different aspects of downshifting. Essentially, what they all had in common was about enjoying a better quality of life with less cash. But as the blog has developed I've found things that I want to write about that do not fit into these categories. Where do I include my thoughts about the particular shade of blue of the sky this morning or the uplifting song of the blue tits flitting about in the tree opposite my window? After all, these things are available to almost anyone who looks or listens, for no monetary cost at all, so I feel that they certainly have relevance here. Sometimes, I think of a theme that might include aspects of several of the other categories but doesn't fit neatly into one, say, of a colour that I've noticed is prevalent at a particular time. So do I then leave it out altogether?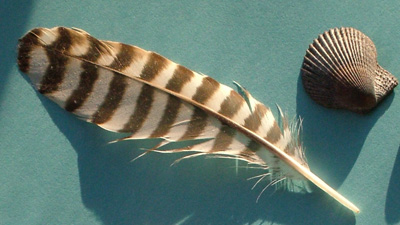 Rather than keep adding categories as they occur, add infinitum, I'm creating just this extra one to include anything that inspires me, that makes my heart sing, in the hope that it will do the same for you. I find inspiration in almost everything, from a young gull's feather found on a beach, through a kind phrase written in a card to the perfect shade of pink on a paper bag! (I really do have one of these, from Accessorise, and I've never been able to find a paint to match). For years now I've kept a folder in my filing cabinet and in it I've kept all sorts of bits and pieces, mostly pages torn from magazines, that 'float my boat' in a particular way. Not only can I refer to them again and again but I find it an excellent antidote to cheer me up after a bad day or even a rough patch. Now that I've stopped whirling around like a dervish, through work, I'm noticing more things every day - people, places, striking combinations of colour - but rather than list all my favourites in a rush, (which is akin, I think, to reading the last page of a book just after you've started it) I'd like to include them now and again, to keep us all keen.
In the 'busyness' of our lives we can become pre-occupied with feeding our bodies to the sad neglect of feeding our minds. Please do let me know if the things that I find inspiring inspire you, too .....