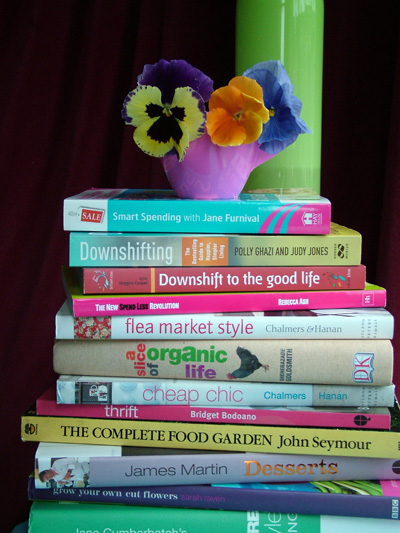 The books I have listed in the 'Books I wouldn't be without' section (just below, on the left) are the ones that I have personally found most helpful and informative and so I recommend them to you on that basis. Given that one man's meat is another man's poison I would strongly suggest that you borrow them from your local library to begin with. That way, you won't have wasted your money if they didn't appeal to you. Lincolnshire Libraries offer an online reservation service in which you can order books over the Internet, from the entire county stock, and it will be delivered to your local branch for you to collect, for the princely sum of 25p per title! It's worth asking about similar services in your own area.
Although I have quite a few books, I only ever buy those that I think I will refer to over and over again. Most I have borrowed from the library first, or have had a good look through in a bookshop. Money given to me for Christmas and birthdays has almost always been spent on supplementing my collection. The last four books I've purchased have been from Amazon. Almost all titles are eligible for Super Saver Delivery, which means that if you spend over £15.00 then delivery is free. This is not as quick as first class but I find that my parcels are invariably delivered more quickly than advised on ordering. If you are not spending £15.00, then it's worth looking at Amazon Marketplace; just click on the 'used and new' link, next to the 'buy new' standard Amazon price. These titles are subject to a £2.75 delivery charge, the same as standard Amazon deliveries, but the books themselves can be much cheaper than Amazon itself and are often new books. Ebay can also be useful but postage and packing can be prohibitive if you are buying heavy books, as the seller will charge standard Post Office Delivery rates. For secondhand books by mail order, it's worth looking at Munn Books. They have a stock of 200,000 books, which is constantly changing so it's worth going back to if you don't find what you're looking for immediately. Their postage and packing rates are very good, too. I bought two books as Christmas presents and when they arrived they were in mint condition.
Undoubtedly, as the blog develops, I will remember more books - particularly those that I've borrowed from the library - that have been really useful. I'm also in a constant process of reading more. I will be adding these in as they occur to me. Precis was never my strongpoint so this list could grow and grow ...
To view my list of recommended titles, scroll down to the 'Books I wouldn't be without' section in the left hand column of your screen.