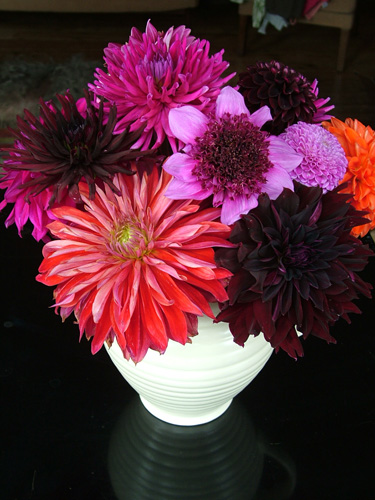 Five years ago I set myself the challenge to grow dahlias I could be proud of. Prior to that I had been enticed to buy them with the best of intentions but never actually gave myself the time to plant them. Bizarre, I know, but there we are! Each year now I buy a few more, taking great delight in increasing my colour range and the shape and size of flower. In many ways, dahlias are the ultimate thrifty flower. As long as you have somewhere frost free to store them over the winter, they will reward you year after year with bucketfuls of flowers in a growing season. And all for the initial purchase price! This year I have the best part of half an allotment devoted to them - forty six plants - and then another half a dozen on Si's plot. I think I actually started off nearer seventy plants this spring as you can divide your stored tubers each year to make more plants. I don't divide mine until the new buds have formed on the tuber; the new pieces won't grow into plants unless they have at least one bud on them, so be warned! I gave away about 18 to other allotment holders. There's no fun in having something lovely if you can't share it, is there? There really is nothing I enjoy more than picking a big bunch of these amazing money-can't-buy cut flowers and giving them as a gift. Sadly, I don't live near enough (or have enough dahlias, probably) to give them to everyone who reads this post but I can share some pictures of my favourites. Its a case of 'all hands on deck' with harvesting the orchard bounty at the moment so please excuse the lack of text this time. Just in case you are inspired to try these varieties for yourself, I've added where I bought mine from after each description.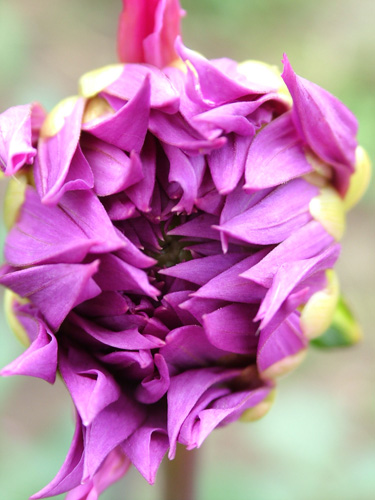 This is Babylon Rose, just bursting into flower. I've had large-flowered dahlias before but have been disappointed. This one is incredible and about ten inches across when fully out (see below).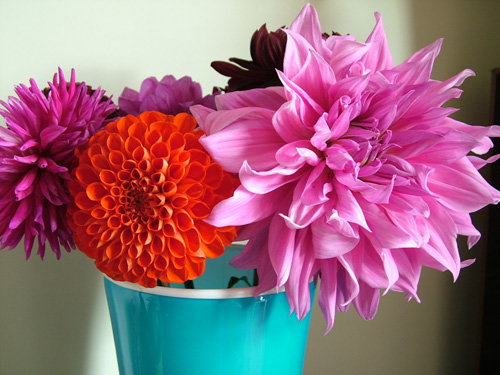 Sharing a vase with Babylon Rose is another current favorite of mine, the ball dahlia, Happy Halloween. And, yes, it really is this intense shade of orange. In fact it is so bright it is really hard to photograph. Pink and orange together is one of my favourite colour combinations. I bought both varieties from Peter Nyssen, though Sarah Raven also sells Happy Halloween (but only from her Spring catalogue).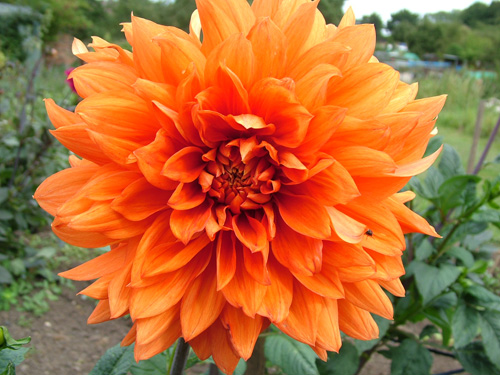 The other large-flowered dahlia I bought this year is also from Peter Nyssen and is called Mrs Eileen. The shade of orange is very similar to Happy Halloween but, as you can see, one photo was taken inside and the other outdoors so they look less alike here than they really are. One of our allotment holders is called Eileen and I was able to present her with one of the very first flowers.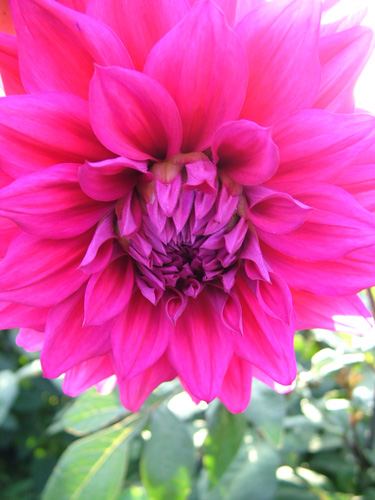 Englehardts Matador not only has an impressive name but lovely dark leaves to boot. Its flowers are about seven inches across in a deep, intense shade of pink. The only drawback with this one is that the flowers are a bit top heavy on their stalks and tend to lean forward after rain. Also from Peter Nyssen.
I have quite a number of dark dahlias, all subtley different from one another, but this is possibly the darkest. It is not hard to see why it is called Karma Choc. Apparently all the Karma series have been bred as cut flowers so tend to last longer in a vase than most dahlias. From Peter Nyssen (again).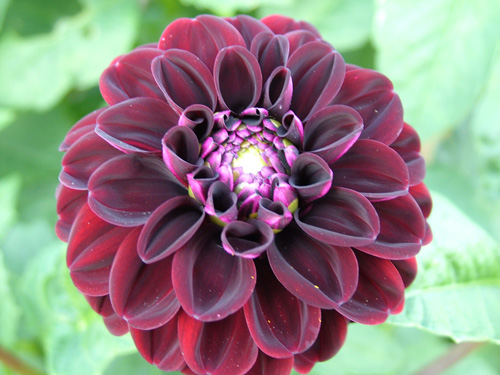 Just to show that not all dahlias have to be bought by mail order, this one is Natal and was bought from Wilkinsons, who have stores countrywide. The blooms are only about three inches across but here is proof - if you needed it -  that small is beautiful!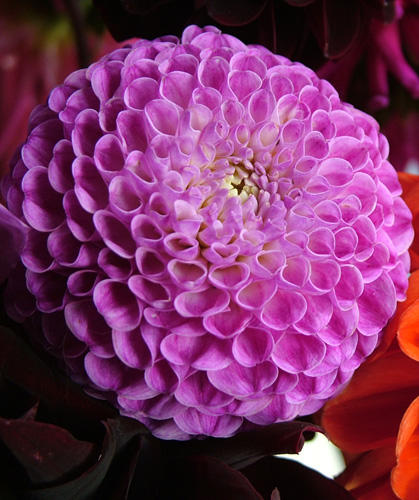 Another Wilkinson one here, this time Franz Kafka in my very favourite lilac-pink. Possibly even smaller than Natal.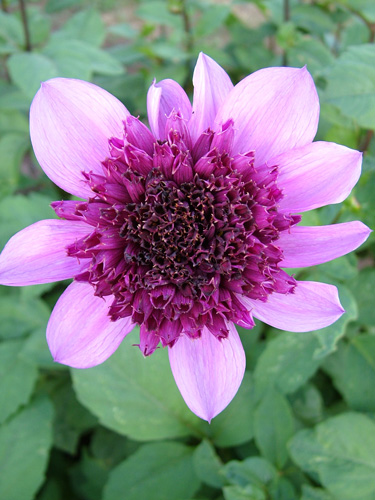 This Blue Bayou is quite similar in colour to Franz Kafka but this time in anemone-flowered form. Generally speaking, dahlia floweres are too fussy and involved to be of much benefit to bees but this type is an exception and they love it. I try to mix both this one and singles like Summertime, below, amongst the other types to keep our busy, buzzy friends in nectar.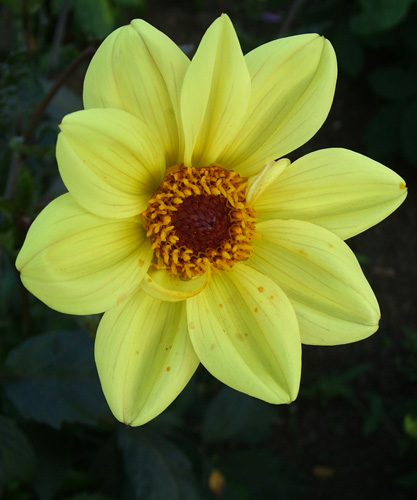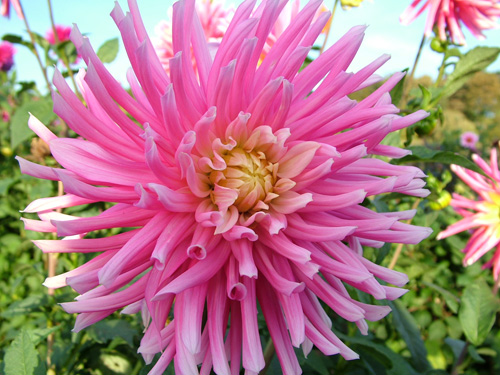 From anemone-flowered to sea anemone, the petals of this Radiance flower remind me of the tentacles of that rockpool favourite. In last year's wet weather this variety never made it to flowering but if this example is anything to go by, the rest has done it good. Last year's tubers had grown enormous with all the rain which meant more splittings this year. Another Wilkinson one, though Peter Nyssen sell it, too.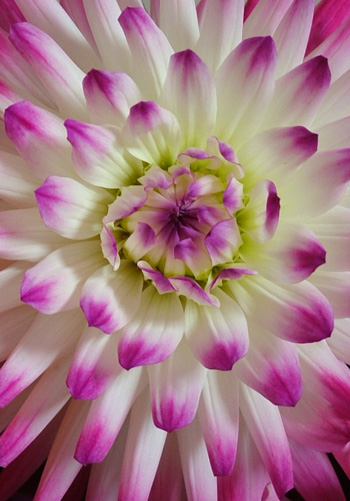 I'm not a big fan of bi-coloured dahlias but this one I love. Called Hayley Jane, I bought it from our local market and it is frequently admired. As each bloom matures, the pink colouring fades to a much softer shade. It flowers prolifically.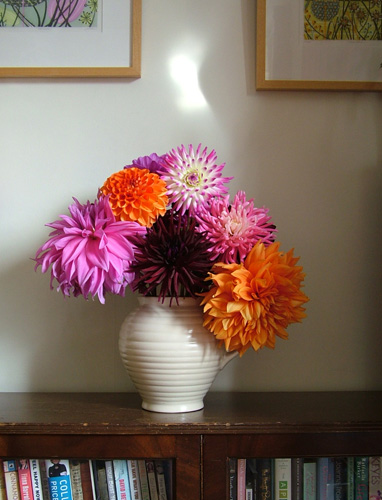 And while it's lovely to give dahlias away, it's also wonderful to know that I can pick vase after vase for home without having to be concerned about the cost. A final big plus for dahlias is that the more you cut them, the more flowers they'll produce. I just hope we can enjoy them for a little while longer before the frosts. In my next post,I'd like to give you a guided tour of our orchard and its bumper 2013 harvest.    If you're inundated with pears, do check out our Recipe section for Chunky Pear and Walnut Chutney and Pear and Ginger Cake. Between picking sessions, I'm cooking up a storm in my kitchen and hope to have tried and tested more fruit recipes to add in October.