Last weekend we took advantage of the bank holiday and travelled over to Wales to visit Si's parents.We are usually too preoccupied with the allotments to go in August and generally visit in October with a selection of orchard produce accompanied by some jams made with the summer's soft fruits. So with it being a particularly productive year for us we were delighted to be able to take my in-laws a large crate brimming with new potatoes, recently lifted onions, just-picked broad and runner beans and courgettes, tomatoes and cucumber from our greenhouse and two different sorts of beetroot. (A week later we could have given them much the same again, as you can see above). Whilst we were there I was looking through the weekend papers and came across an article about organic veg boxes. The Money section of the Telegraph were reviewing their value for money compared with non-organic produce from supermarkets. Of the three companies studied, two faired very favourably on price (with free or a 99p delivery charge) alongside non-organic supermarket produce and scored highly for the range of veg they contained, their freshness and their flavour. The article got me thinking about the monetary value of our own organically grown produce alongside a question that we are often asked:"Wouldn't it just be cheaper/easier to buy it all from the supermarket"?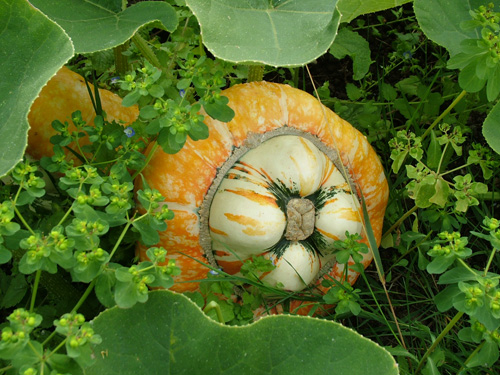 In other words, are allotments really worth the money? In terms of outlay you have to pay the rent for your plot from the time you take it which is, effectively, in advance. Then you need to have tools for the job which, even if you have these to begin with, are subject to wear and tear and may need replacing. There are seeds/sets/tubers to buy and fruit bushes if you so wish, along with string, labels, netting, canes. Since allotments do not generally allow the use of hosepipes you will certainly need at least one watering can. A shed is useful to keep your gardening kit in and to shelter from a sudden cloudburst;I could continue ad infinitum about all the bits and pieces you might need. Allotments require significant input to get them under way each season and not a little physical effort. Clearing, digging, sowing, watering and weeding all precede the harvesting of your would-be bounty. You will be at the mercy of the elements, wind-borne diseases and a variety of pests, the worst of whom have two legs and visit in the night to wreak havoc of their choosing! If you live at some distance from your allotment plot you may wish to consider the cost in fuel to get to it as you will need to visit regularly, particularly in a dry summer. There may well be more things that I haven't considered but I think I have probably done justice to the downside of allotments by now!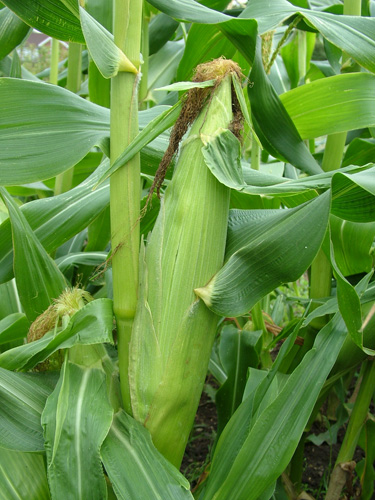 But if there are so many potential costs to allotment holding,then how come it is such a popular hobby with demand outstripping supply to the extent that some councils have closed their waiting lists? Are allotment holders just deluded optimists with more money than sense or is there more to be gained from having an allotment than is generally acknowledged? I will begin by saying that a single veg box in the Telegraph article costs more than the annual rent for one of our allotments. I might go on to say that the box of veg we took for my in-laws was twice the size of the one in the photo at the top of this post and very probably contained twice as much as those quoted in the Telegraph. Even though our allotment rents are low here, two Telegraph veg boxes would cost the same as the national average for allotments countrywide. If I then tell you that we could probably fill a double basket with a seasonally varying assortment of fruit and veg combined every week, from just two allotments, from the beginning of July until the end of October and that single crops like gooseberries, cooking apples, broad beans, rhubarb and even, this year, blackcurrants would fill double baskets on their own, you will begin to appreciate just how productive - and therefore cost saving - allotments can be. Even beyond the main growing season we probably use something that came from the allotment originally every day. We freeze as much as possible and that includes plenty of soft fruit for jams to be made later in the year. Some fruit and veg is made into chutneys, sauces and ketchups. Apples are stored whole for cooking over the winter and Bramleys can last as late as May the following year. From the orchard - though some plots on our site do have apple trees - we press apples for juice (which we also freeze) and for cider. Not every year is a bumper year like this one has been but in every year there are always some things that will do well and some that do nothing. It makes every year something of a challenge and prevents us taking any crop for granted. For all our other largesse this year we have hardly any plums. Rather than being miserable about this we will make the absolute most of the few we have and enjoy them to the full!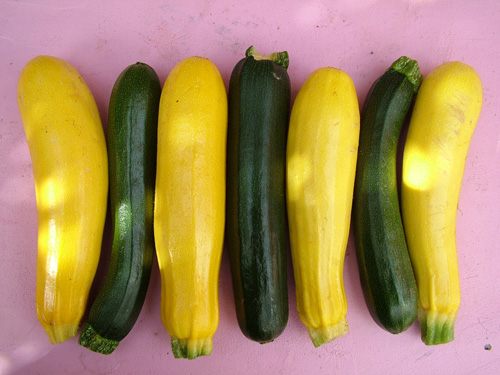 One of the best pieces of advice we can give, when it comes to what to grow on your allotment, is to grow what you really enjoy and particularly crops that would otherwise be unaffordable or unavailable. Our Italian allotment neighbour grows wonderful globe artichokes and she harvests every one and savours them in her cooking. I have never seen them for sale anywhere locally. The courgettes above have been so prolific this year that we are harvesting an average of five a day, yet the price in supermarkets never seems to come down to reflect such seasonal gluts. Our own allotments are run on organic principles and so we would have to pay through the nose for organic supermarket courgettes and then we could only have the standard green ones. Yesterday, one of our fellow allotment holders came for tea. We picked courgettes, peas and tomatoes just an hour before she arrived and carried them home in baskets. There were no food miles to consider, the produce was as fresh as possible and we knew that it had not been sprayed or fed with a cocktail of artificial chemicals. This year we have had so much surplus that we have really enjoyed being able to share it with our neighbours and friends. Not our allotment neighbours, you understand. When we have gluts we all have gluts of the same stuff! Our street is a mixed business and residential one and the recipients either live or work alongside us. The prolific strawberries were a particular hit and not only have we been able to share fresh local produce within our community but have strengthened friendships in the process. One of our neighbours, who is recovering from cancer, called round with some fresh cream puffs made with the strawberry jam and newly picked strawberries we had taken round that morning. Apparently we have also inspired another of our neighbours to dig up part of his lawn in order to grow not only strawberries but fresh coriander to supply his own food outlet!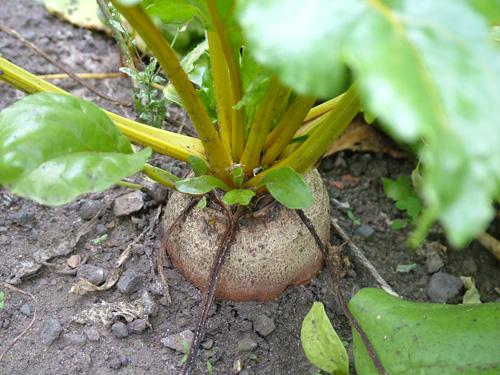 Harking back to the initial outlay I mentioned earlier, there are numerous benefits that far outweigh your original investment. Yes, you need to put in some physical effort but at least you will have something tangible to show at the end of it. People pay good money to run miles on a treadmill in air conditioned gyms and for all the expense and effort they are not rewarded with the first peas eaten fresh from the pod nor do they get to taste tomatoes still warm from the sun. Advice is exchanged and plants are swapped. Sharing is second nature amongst allotment folk. Many of our own plot holders live within walking distance but for those who drive there they believe the expense on fuel is justified. Allotments are not only a source of food but also a leisure pursuit in their own right and no-one factors in the cost of fuel if they go shopping or for a night out. Apart from a pair of wellies or strong pair of boots, allotmenting is something that requires no specially purchased clothing. If it is a case of keeping up with the Jones's then perhaps the antitheses is true and you keep down with the allotment holders! And what price can we put on the potential environmental benefits of allotments? Our site is currently alive with bees and butterfies, with dragonflies and moths and with a diversity of birds from robins to raptors. As wildlife habitats dwindle, allotments have huge potential to provide both food and shelter to wildlife to the benefit of all parties concerned. This is the subject of a future post so I'll move on here but just look how the bees below are relishing the last globe artichoke that has been left to flower.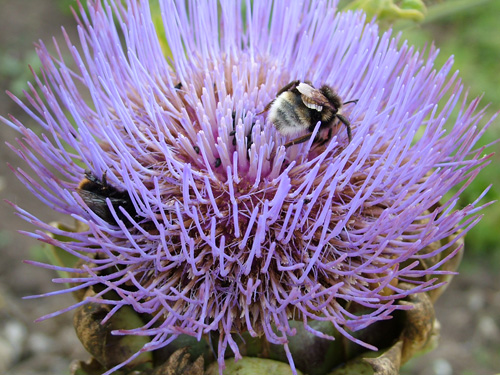 As for other expenses, allotment holders are the original frugals, re-users and upcyclers. Some of our strongest and most useful tools have come from car boot sales and have been acquired for very little expense. We do have a stainless steel fork and spade each but they were bought on special offer and they have already given years of service. We look after them and always bring them home with us. The amount of money you spend on seeds is largely a matter of personal choice. I have had expensive ones that have failed to germinate and cheap ones that flourished. This year I bought seeds from Lidl who have a good range at a good price, Wilko, who offer three for the price of two and are also reasonable and More Veg where you can buy small quantities of seed at correspondingly small prices. The golden courgettes are a variety called 'Goldena' and come from Country Value Seeds who sell through Boyes. Prolific is not the word for them. Rampant might be more accurate! Some allotments are let with sheds already on them. Our original one was burnt down in 2009 but we were given one to replace it by a lovely chap who read about our plight in the paper. They sometimes come up on Freecycle and in the small ads in the paper. Or you could have a go at making one yourself from recycled materials. I have read that they can be made from old pallets! The netting for our fruit cages is scaffolding netting that was destined for landfill and it is brilliant for shading fruit from the hot sun and preventing it going over too quickly. Likewise black plastic that has been skipped by builders makes an ideal weed suppressant. Do ask permission to take things from skips. Builders are often pleased to let you have it as they have to pay to skip it. I buy sundries like labels, string, etc in end of season sales, grow my own bamboo canes in our courtyard garden at home and retrieve blue mushroom baskets for storing veg after the weekly market has packed up. I could go on and on but I hope that I have succeeded in convincing even the most sceptical of you that allotments cost relatively little for all the benefits they give - be they of a financial, health, environmental or community nature. Perhaps the biggest threat to their cost effectiveness comes from cash strapped councils in terms of rent rises or, worse still, the selling off of allotment sites to gain revenue and cut costs. Allotments are quite simply a way of life that benefits all concerned. Lets help to keep them that way.