I haven't written a post about 'my boys' for as long as I can remember so here is Hector looking relaxed in his armchair on the morning of his sixth birthday. Despite being enormous and weighing 35 kilos he is the gentlest of souls, loves meeting people and thoroughly enjoys being scratched behing the ears. Meat, fish and broad beans straight out of the pod are his favourite foods and recently he has been enjoying the finest of these I could find. Truth to tell we nearly lost him. Two and a half weeks ago he had major abdominal surgery and had to stay in the vets from Saturday till Monday. I never realised that two days could drag by so slowly as we waited to hear if everything would be ok. He wasn't allowed upstairs for twelve days (and nights) until he had his stitches out and so I slept on a camp bed in the kitchen with him to ensure he didn't lick his wound. We did try the big plastic cone but for a dog that size they are enormous, particularly as it has to reach beyond their incredibly long snouts. Poor chap kept walking into things and then getting stuck and howling. To his credit he never tried to lick or pull his stitches once and it must really be very tempting, especially as the wound heals and they begin to itch.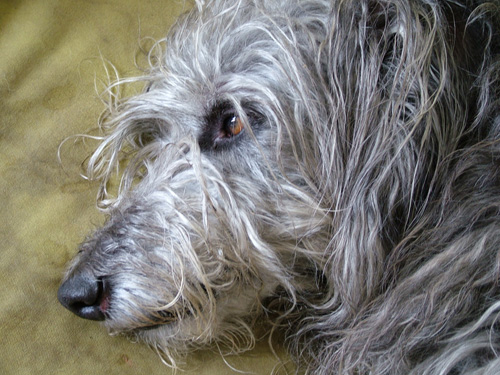 So I think he certainly deserved the organic chicken fillets from M&S, bought just before he was taken ill (in the final reductions, of course). Then we've had a root through the freezer and found some tuna steaks (also discounted) which met with distinct approval, not to mention the bag of broad beans from Monday evening's sortie to Tesco. His for the princely sum of 25p. Hector has been insured with The Kennel Club since we first got him and although the premium has risen as he's got older we agreed that for the peace of mind it gave us it was worth saving up for. The letter arrived this morning to say that the vets have been paid and I paid the excess when he first came home. We also have to pay 10% of the total cost, which is do-able compared with forking out the entire cost ourselves. He has made such a good recovery (fingers crossed) and is back to being his loving, snuggly self. It was raining this morning when we went out and as his coat soaks up water like a sponge he wore his smart coat, below. All sighthounds - deerhounds, greyhounds, whippets, afghans, etc - have very long bodies compared to their girth so it can be hard to find a coat to fit. I got this very smart tartan one from a Scottish deerhound breeder who has them made locally and I have found it to be very good.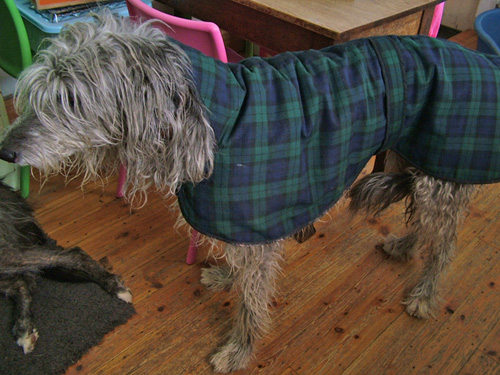 At one time no-one below the rank of Earl was permitted to own a deerhound and although he has a princely name he is actually called after a dog from a seventies TV programme called 'Hector's House'. At the end of the programme the character always proclaimed "And I'm a great big silly old Hector". So he was and so is his namesake. Tomorrow, he and Zephyr - whose birthday is on Friday - are going to enjoy chewing a bone each in the orchard. Small treats for my big friends. Happy birthday to them both!