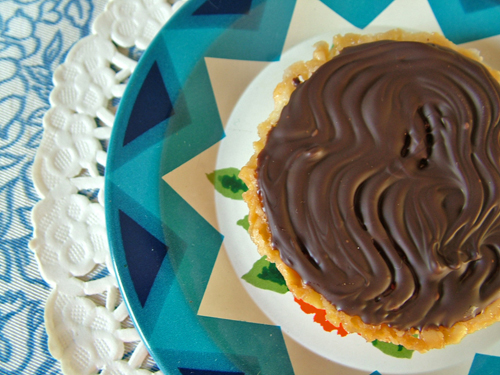 I imagine food comes high on most people's list of priorities at Christmas. In fact the tradition of a mid-winter feast - at around the time of the winter solstice - can be traced back to pagan times in Europe and is therefore one of the oldest of Christmas rituals. However, as I said in my last post, if turkey with all the trimmings is beyond your means this year or your family are simply not fans of traditional Christmas fare, there is absolutely nothing wrong with substituting ideas of your own. My only word of caution, if you are planning to do this, is to let any guests know in advance. You never know, they may offer to bring part of the meal as their contribution but in any case I'm sure most guests would be happy to share in something cheaper and plentiful than to feel they are depriving their hosts of a decent portion of something small and expensive by accepting their invitation. If you do have guests coming for Christmas lunch, you could buy several chickens for the price of even a small turkey and they won't take nearly as long to cook, either. Clearly you need to take into account dietary needs and preferences but that would be the same however much you have to spend. It really is a good idea to find out beforehand if any guests are vegetarian or if there are foods they cannot eat on health grounds; it helps to save embarassment on the day for all parties and makes the guest concerned feel that you are interested in their welfare.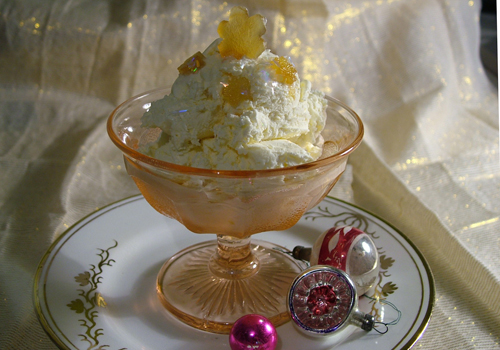 This brings me nicely round to thinking about not only what guests will like for their Christmas dinner but what they like and what interests them full stop. This is always my starting point not just for meals but for the giving of gifts. I have overheard people say in shops before now that such-and-such a present will DO for a particular relative or friend. How will you feel when that person throws away your gift or gives it to a charity shop because Uncle John has always loathed coffee or because your best friend is allergic to lanolin? How insulting will it have been for them that you didn't know or remember this? If there is anyone on your carefully constructed list whose likes and dislikes you are unsure of then for goodness sake FIND OUT NOW! Either that or take them off your list. If you don't know them well enough to know what they like or dislike then why are you bothering to send them a present at all? Just a thought . . .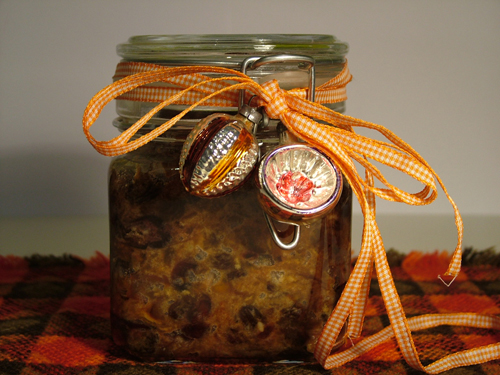 One of the most popular sections on this blog are the recipes, so I thought I would add a few more here that you could either make as gifts, enjoy at home, or both. I have tried to be cost-conscious with all of them. Some are cheap to make, others are cheap depending on where you source your ingredients. (Markets and reduction counters in supermarkets being the cheapest, usually). Some use up ingredients left over from other recipes that might otherwise go to waste and then there are recipes that are so much cheaper to make than if you buy the finished product in a shop. Homemade edible presents are great because they often don't hang around for long. Your biscuits won't have to sit on a shop shelf for 3 weeks before you buy them and therefore won't need to be loaded up with preservatives either because you will be baking them a day or two before giving them. You can also select quality ingredients and bake them with the care and attention that definitely puts them in the 'artisan' bracket that you would normally pay top whack for.
Another positive about creating you own food gifts is that the making of them is such a rewarding and therapeutic process. The Peppermint Creams recipe is ideal for involving children, certainly at the cutting out stage. So what if they are a bit wonky? Surely that's what handmade is all about! It's one of the things that distinguishes them from the visually perfect type churned out in identical boxes from production lines. Then there is the taste. I made a batch of peppermint creams to take to my last Chrissy B show. Everyone who tasted them loved them and I came away with an empty box. Getting kids of any age involved in making gifts teaches them some valuable things. They develop confidence by succesfully mastering a new set of skills and they also learn that actively giving something that someone will really enjoy - instead of just waiting passively to receive gifts - can be a rewarding experience in itself. Even if you don't have children to cook with or for, home baking can be a wonderful antidote to stress at this time of year. Just knowing that you are ensconced in your kitchen cooking away instead of battling it out in the shops for a more expensive, inferior-quality version of the same thing is enough to bring your blood pressure down! I am hoping that my daughter, Caz, has had just such a lovely time on her day off baking delights for the Herne Hill Christmas Fair tomorrow. Entirely self taught, she tackles everything from Key Lime Pie to Danish Pastries and loves every minute of it as downtime from her demanding job. We all have the same 24 hours a day. Nothing says 'You're worth it' more than giving others the gift of your time in making something they'll love. No, not even L'Oreal!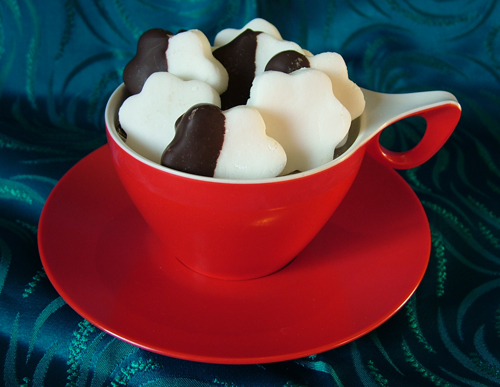 We Britains come in for a lot of stick - probably deservedly so - for wasting food. The campaign Love Food Hate Waste says that for every 3 shopping bags of food we buy, one will end up being thrown away. So in thinking of my recipes here I was mindful that over the festive period food - particularly in the fridge - tends to get overlooked and spoil. One of my own guiltiest products in this department is fresh cream so I am including a couple of new recipes and also some suggestions for using it up. I tend to buy double cream as I seem to come across it most frequently in recipes. I think it is also the most expensive and therefore a double waste if it goes off. So say you were thinking of trying several of my recipes using cream and you decided to buy a large 600ml pot. The Rich Chocolate Truffle recipe uses 200ml and the Florentine recipe requires 4 tablespoonfuls; if you were just making these two you could probably get away with a 300ml pot with a little left over to serve in coffee. But if you had already bought the big pot you could either use the rest to make Ginger and Syrup Ice Cream or whip it up to sandwich some pairs of meringues together that you'd made from the Basic Meringue Recipe (use the yolks to make custard or a custard-based ice cream). The Florentine recipe needs a few glace cherries but the 200g pots are more cost effective to buy. You can use the rest of the cherries (and mixed peel) in the mincemeat recipe, using up odds and ends of other dried fruit to make up the overall weight for dried fruit in the recipe. Once you start thinking about it you can become very creative indeed AND create fabulous things to eat along the way!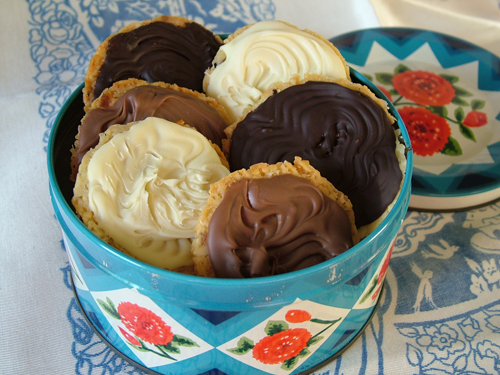 Once you have created your homemade comestibles how should you present them? The Florentines above need something airtight to stop them from going soft so this retro tin - bought at a charity shop for under a pound - is ideal. (Always line old tins with greaseproof paper or tinfoil first).The tin could be re-used for storing other things afterwards or the recipient might like to let you have it back once the Florentines are eaten in the hope of a future refill! My hairdresser gives back the big jar that I fill with fudge for her and my in-laws return their empty jam jars. The red and white Melaware cup and saucer further above makes a lovely container for Peppermint Creams and could be used for retro style picnics later on. We buy Douwe Egberts coffee and the empty jars are useful for holding all kinds of biscuits and sweets as well as other gifts. With a nice piece of ribbon tied round the top - like I've used on the mincemeat jar nearer the top of this post - you can save yourself from having to pay through the nose for something similar in kitchen shops. The plastic boxes you get from takeaways are a good size for sweets. Having washed them well you can fill them with bicarbonate of soda dissolved in water to get rid of any smell first. Ice cream tubs can be used for biscuits. With some fancy wrapping paper on the outside and tasty treats on the inside, no-one will care that Walls made the container. Besides, you are recycling, right? Bon appetit, class, and please do let me know through the comments section how your homemade presents are received. Other ideas for gifts will be the subject of my next post and will include some suggestions for presents that cost just a pound or less!
The pictures in this post also illustrate newly added recipes for Ginger and Syrup Ice Cream, Homemade Mincemeat and Grapefruit and Cranberry Marmalade