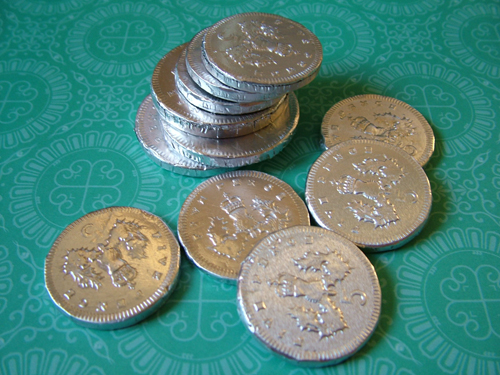 Here we are again in the run up to Christmas and this year I am determined to publish some posts on getting through the festive season without breaking the bank. If you are a regular reader you will gather by now that I don't just pontificate about the subjects I blog about. Everything I write stems from my own personal experiences - what worked for me and what didn't - and I share them here in the hope that they are of benefit to other people who also have a limited income or for those who would prefer to get a grip on their spending now.The annual dilemma I face is that I actually need to prepare things and photograph them before I can write the post. Then I actually write the post itself. This would be fine if I wasn't also trying to get things ready for my own family's Christmas. This year, though, I have had a metaphorical push by appearing on telly twice and having to produce 'props' for each show at short notice. Since I've then been able to photograph these props, I have effectively killed two birds with one stone, as it were! So add this page to your Favourites if you want to keep coming back to read more in the Creative Christmas series; posts will include making your own gifts and how to buy gifts for less, decorating your house in a budget/planet friendly way and cutting the cost of what to wear.
Someone once told me that it's always wise to 'tackle the worst first' so I'm going to start with a post on setting a budget. You might be inclined to say that this is a bit late for the current year but I know there are many people out there who just don't have the funds to support the spendfest society now expects at Christmas and who will still be worrying about how they will manage. This post is for them. The word 'budget'  - like 'thrifty' and 'frugal' often conjures up images of doing without and hardship. It need not do. Think of a budget - customised to your own circumstances - as a friend. By working one out you know for sure what you can and cannot afford. Even if you cannot afford very much at all at least you will be aware of that and be able to plan accordingly rather than crossing your fingers and worrying yourself silly in the meantime about what you've spent. And yes, reader, I have been there and you HATE yourself for it afterwards! The Boy Scout motto 'Be prepared' has never been more pertinent. After The Chrissy B Show on Monday evening, the crew, fellow guests and myself were discussing how we felt the show went. We three guests had barely had time to introduce ourselves to one another as we arrived, before we were whisked off to prepare our particular sections, let alone collaborate on what we would say. Yet we each marvelled in turn as each guest gave out the same core message: DO NOT FEEL PRESSURED INTO SPENDING WHAT YOU CANNOT AFFORD! Not by the advertisers, not by the shops, not by your children and not by your peers. If you put all your Christmas shopping (or even part of it) on a credit card you cannot afford to repay or by using money that should be for your essential living costs it will be YOUR problem, not theirs. In case you need a little more convincing please have a look at the following:
GOOD REASONS NOT TO OVERSPEND ON CHRISTMAS (OR ANY OTHER TIME)
If you spend the money for your gas bill on Christmas stuff you are going to be very cold in the New Year when the gas company cut you off just as temperatures really start to tumble. Ditto your mortgage, loan payments for your car,etc,etc. If you thought you felt bad about not giving the gifts you'd like, just think how you would feel if the bailiffs came for the telly as a result of your overspending

Money spent on your credit card has to be paid back and it has to be paid back WITH INTEREST. So that means you haven't resolved anything, only put it off, and when you really do need your card for emergencies - like having the washer mended - you will be stuffed
If you give your children something you cannot afford you will teach them that overspending is perfectly acceptable and they will go on to replicate it in their own adult lives. Oh, and then they will come to you to bail them out. So set a good example. If you are worried that they will lose face amongst their peers I suspect that many people will be in the same boat this year. More on this later.
If you spend money you cannot pay back you will ruin your credit rating. If you apply for any loans at a later date you may be seen as a bad risk and refused or charged an exhorbitant rate of interest. You might need that loan for a car to get you to work every day. Think about it.
So now I've done the scary bit. My sincere apologies to any reader who is already experiencing the trauma of the above. But I think you'll agree that letting anyone else get into the same mess is not going to help your situation one jot. Now I'm going to explain how I do my budget for Christmas.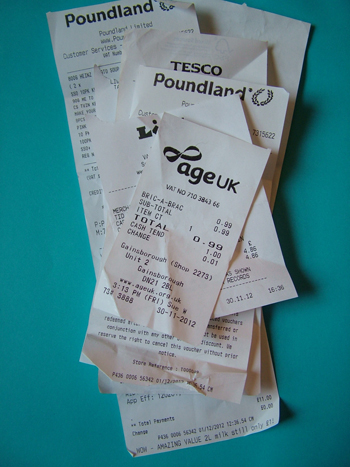 First you will need several blank pieces of paper and a pen. I like to have some coloured pens because you are going to be re-doing your numbers, so they help to show where you are up to, I find. Now you need a list of every single regular outgoing you have from your bank account/pay packet every month and when they need paying or are direct debited from your account. Remember that if you get paid mid-month, some of these payments will not go out until after Christmas Day but they will need paying nonetheless BEFORE you get paid again. There might even be some irregular payments in December that you must put money aside for. Ours is for our dogs' booster jabs. It just happens to coincide with the time of year we got our dogs and their insurance is not valid if they don't have them. Include everything. Mortgage, council tax, petrol or travel to work costs, various insurance policies, water charges, gas/electric. This list is not exhaustive and some things will be individual to you. Don't forget food! If you buy a coffee everyday on the way to work, include that. Now add it all up. Have a think. Is there anything essential you've forgotten? Sites like Money Saving Expert have got good articles on budget setting. You could check with those to see if you have missed anything obvious. Ask your partner, too. Add in an amount for emergencies if you can. If no emergency occurs you will have money left to spend in the sales later and if something does crop up you will be so glad you put that money asaide. When you are happy you've included absolutely everything add it up again. This is your MONEY OUT amount. Now take it away from your MONEY IN amount which is what you get paid - be it wages or benefits - or a mixture of both. What you have left is what you have to spend on Christmas this year. Even from here I can see the shock on your faces.( I am assuming for the purpose of this post that you do have something left, however small. If your MONEY OUT column is greater than your MONEY IN you don't need me to tell you that you have a financial problem. I am not qualified in debt management; I only have experience of making small amounts of money go further, so I would refer you to your local Citizens Advice Bureau for expert assistance as soon as possible. Waiting till after Christmas will not make it better).If you do have money left but you are horrified by the small amount you can start by looking at your regular outgoings and deciding if there's anything you could cut down on. Obviously you cannot neglect essentials like keeping up your mortgage repayments or saving for your winter gas bill. But what about those 'wants'. Take that cup of coffee on the way to work. Buy a vacuum mug/flask and take coffee with you from home. Or think of a quick simple evening meal instead of that takeaway. If anyone in your household complains, tell them you are saving that money for Christmas. That they can have it then or now but you can't afford both. If you have already done that trimming in the past you will have to work with what you have. This is the time to get everyone in your household on board.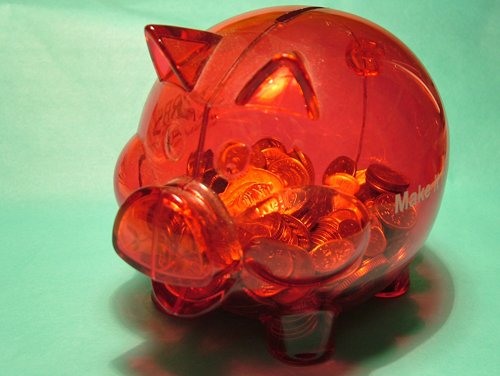 First give yourself a mental shake. You do know as an adult, don't you, that the perfect world of advertising is a big con. The immaculate home, the eager smiling family and perfect Christmas dinner are paid for in December alone by 3 billion pounds of marketing department money. All that cash expended on trying to make us feel inadequate so that we will buy lots of things, regardless of whether we can afford it or not. (Thank you to Justin Basini, my fellow Chrissy B Show guest and marketing expert for that horrifying figure). Your children, if you have them, are even more susceptible to the marketing campaigns as to them it all seems real and even achievable. Talk to them and encourage them to think of some ideas of their own towards making Christmas special on less money. Any child who is old enough to have pocket money is old enough to understand simple budgeting. They know that if they spend it all the day they get it that there is none for another week (unless you keep subbing them in which case giving them pocket money teaches them nothing). You can explain it, if you need to, like the portions of a cake and what that money secures for them rather than on what the payment is for, i.e. a home for them to live in rather than just 'mortgage payment'. If too big a slice of the cake is taken for one thing then there is not enough cake to go around. Teenagers are particularly susceptible to both brand advertising and also peer pressure. If they have set their heart on something you could club together with family and friends to buy it, you could get it after Christmas when it will probably be cheaper or you could save up for it for their birthday which is - hopefully - at another time of year. At the end of the day if you cannot afford it in any of these ways you will have to say that you're sorry, but the answer is no. Explain why. If you thought they would feel bad by not having present X on Christmas morning, think how they will feel in front of their peers who all know that the bailiffs came to take the car/telly/unaffordable present away in front of all their friends and neighbours. After you've broached it with your immediate household, tell anyone you share Christmas/ exchange presents with that you are spending less this year. If they want to carry on as they are then at least you had the good grace to brief them in advance. To keep things in proper perspective remember always that Christmas is just one day a year.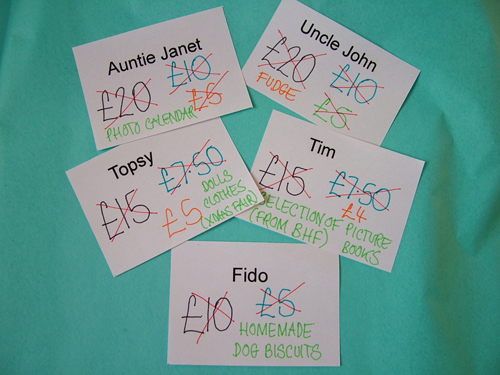 Now you need to decide how you will divide up what you had left to spend on Christmas. Your priorities will probably depend on whether you are single, partnered or have children of your own. Families may decide to spend the larger portion on presents whereas a couple may spend it on entertaining. Put some ball park figures on squares of paper that leaves plenty of room for crossings out. I have done it above for presents. The idea is that you keep re-thinking the figures until they balance up. The whole idea of this budget is only to spend what you have and no more. If the doll's clothes for Topsy, that we picked up at the school Christmas Fair, cost less than the fiver we were proposing we can add the amount saved to another part of the budget. As long as you have some money for your Christmas budget you can often surprise yourself as to just how far you can make it go. Make it your mission to hit - or come in under - your budget targets. Take it from me that you will be more delighted with yourself if you manage it then ever you were when you went round spending money willy nilly. Both Justin and Chris Browne - a motivational speaker and self development expert with a regular slot on The Chrissy B Show - suggested standing back and thinking about what Christmas really means to you. The emphasis of the day does not necessarily need to be on presents. Equally, you do not have to go along with family traditions that no longer suit your lifestyle and/or budget but it's only courteous to let others, who will be affected by the change, know in advance. You may want to begin new traditions of your own that are more sustainable and place less reliance on money. Chris also said that Christmas should be the time for team, for being proactive instead of passive. Everyone should have a part to play in making Christmas Day special, be it anything from setting the table to taking the dog out. For my part I would say that pulling together got us through a world war so it must certainly make things easier for weathering economic recession. Sharing your Christmas Day with friends and family also means that you can share the cost, with each guest contributing according to his or her financial position. If everyone does what they can - even if it's just the washing up - then nobody feels left out or guilty of free loading. So now you need to write your shopping lists. Even if you are baking all your presents this year you will still need to buy ingredients within your budget.Your present list might only say things like  'Present for Auntie Jane' and an amount next to it that you must not exceed. The challenge is in finding something to fit the bill! In my next couple of posts I hope to give you some ideas for thrifty gift giving.