Here I am on The Chrissy B Show with Piper Terrett (centre) and Chrissy B (right). Catch up with this episode on Friday 23rd November at 9.30p.m. on Sky 203 (My Channel).
Three weeks ago a producer from a TV company left a comment on my blog. At first - for reasons that deserve a post of their own - I thought it was a hoax. So I checked out the links. It was genuine. My initial suspicion then gave way to abject terror. My husband, Si', took one look at me and asked if something awful had happened. I told him that yes, it had, and that someone wanted me to be on the telly - a live show at that - in three days time. His face broke into the most radiant smile and he said that he thought it was an amazing opportunity. By now I was quaking like a jelly and he was full of concern. He tried again; was I not thrilled to be asked and what was I afraid of? I was, I replied, but PEOPLE WILL LOOK AT ME! In case this sounds like the ramblings of a mad woman I need to put this in perspective. I started my blog almost five years ago to record the progress of my personal challenge of living well on less. Initially, I wrote it just for me and knew I would be more motivated to keep it up if I included photos. Readers started leaving positive comments and I began to write more with an audience in mind. The blog has worked its way up the Google rankings - a real source of pride to my offspring - but never once have I envisaged it going any further than that. Certainly not that anyone would want to interview me about it. Unless the blog is a promotional one - say, for a business or career purpose - most bloggers are pretty much invisible. It is what they say, rather than what they themselves look like, that is key. Mostly I write my posts first thing in the morning sitting in my dressing gown with a cup of tea and a biscuit. Today I am fully dressed but have a hot water bottle on my lap because it seems a waste to heat the whole house just for one (the dogs have their fur coats). If you spend your days as I do - messy activities like making jam and digging allotments and also writing in the company of two large dogs - then you do not need to look glamorous. What would I would I wear? Certainly not my dressing gown!!! I rang my daughter Caz, who lives in London, to ask her opinion. She, too, was all in favour; she also said she had a day off that Friday and that since it was an evening show I could sleep on her sofa. I tried voicing my reticence: what if I couldn't think what to say? She paused and said, "Mum, when have you ever been short of something to say"! So I emailed my acceptance and I am so glad I did. I was still terribly nervous. The show was to be about living thriftily and things you could make or do to save yourself money. Looking back through my early posts to refresh my memory was a bit like revising for an exam. Then I had to find examples of things I had handmade. This was more difficult as, rather than filling my house with my handiwork, I tend to make things with the purpose of giving them as gifts. So there was quite a bit of raking through cupboards. I took jam and I also made some truffles (more on those in a moment).
I travelled down to London on the Friday afternoon, laden down with my 'props'. I had tea with Carrie and then she very sweetly volunteered to accompany me to the studio in Finsbury Park. This was especially kind since she would miss the big fireworks do in her local park. As we waited to be buzzed into the building we met Piper Terrett, financial journalist and author of The Frugal Life, who was to be the other guest on the show. As we chatted in the green room I discovered that, like me, Piper has had a range of different jobs but hers have mostly been in the finance sphere. So what Piper doesn't know about saving yourself a pound or two is probably not worth knowing! (The picture above shows Chrissy B, the host of the show, on the right, Piper in the centre and I am on the left). Then Joanna, the producer, came in and we ran through which props would be needed for the show followed by Chrissy herself, to go over the questions she would be asking. As a complete television novice I had nothing to compare it to but Joanna, Chrissy and the others in the team could not have been more lovely and reassuring. Even before we went through to the studio it was like catching up with a group of friends who are exactly on the same wavelength and I'm sure Piper and Caz felt just the same. As I sat with Chrissy in the studio and she pointed out which camera focussed where and the countdown began, I found that I was completely relaxed. Not to give too much away, I went on first, then Piper and then Chrissy spoke to us both together. Altogether I was in the studio for 35 minutes but the time just whizzed by. I left the jam behind as a thank you gift and there were hugs all round as we walked back with Piper to the tube station. The following morning I caught the bus with Caz to Covent Garden where she works, treated myself to a slice of gateau as a reward from Patisserie Valerie to eat on the train home and spent a happy hour in Foyles bookshop on Charing Cross Road. Not only do they have huge craft and comprehensive gardening sections but they also have one dedicated to sustainability. I could have stayed all day!!! And just to prove the point that fortune favours the brave, I happened quite by chance to have the most inspiring conversation I think I've ever had on public transport on the way home. Maria was sitting across the aisle from me initially on the coach leg of our Mega Bus journey but moved to let a couple sit together. We had so much making, baking and school experience in common that it was an absolute joy to be in her company as we swapped ideas and recommendations. By this time all the truffles had been left in London -  some were eaten on the show and the rest left with Caz and her partner, Matt - but I promised Maria that I would put the recipe on my blog for her to try for herself. Sorry Maria for my tardiness. I have been trying to concentrate on getting lots of thrifty Christmas ideas together for forthcoming posts but you can find the recipe here.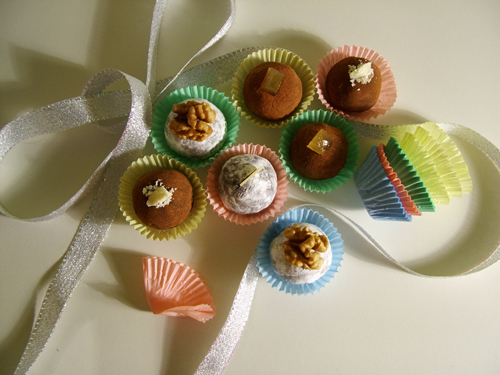 A few days afterwards I had an email to say that there had been an issue with the Sky satellite signal on the channel, of which the production team were unaware, and that the programme had not gone out live after all. Instead, this installment of the Chrissy B Show is to be shown on Sky 203 (My Channel) at 9.30p.m. this Friday, November 23rd. Please do lend your support by watching if you can. We all had such a good time making the show so I sincerely hope you enjoy seeing it and picking up some of our combined thrifty tips. You might even be interested to hear the story behind what I chose to wear. Thank you, once again, to all those above who helped to make my weekend wonderful. And Si' was quite right; it really did turn out to be an amazing opportunity!