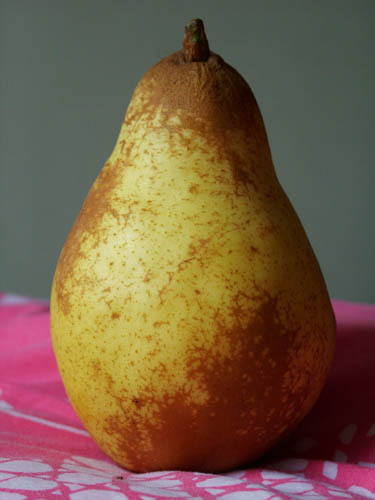 According to the self sufficiency guru, the late John Seymour,"There is one day in the life of every pear when it is perfect, and with pears, perfect is perfect". He advocates picking them a little before they are ripe, taking "exaggerated precautions not to bruise them" and waiting for them to ripen at room temperature. If you have trees of your own - or access to some - this allows you to stagger your picking. Unlike apples (especially cookers), many pears will not keep for long and once they are fully ripe will quickly start to rot if not eaten. In previous years, when we have been overwhelmed with fruit, we have taken them to the local car boot sale in an effort to 're-distribute' them before they reached that perfect moment. You get to do a lot of people watching whilst standing at car boots and at first I was affronted - and later amused - by shoppers who would march up to the pear baskets with great authority, pick up the fruit to assess it and pronounce to anyone with them that they were "too hard and no good!"  The implication being that we were a pair of numpties who did not know when to pick their crop and who were selling fruit that would not ripen to an unsuspecting public. In short, ripping people off!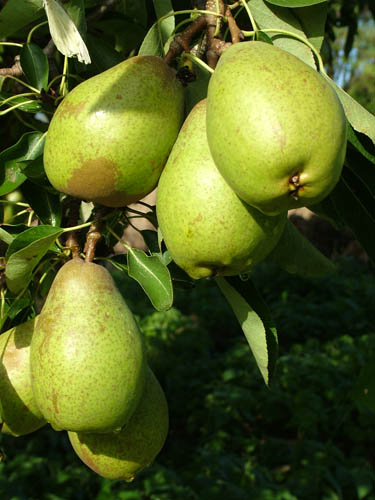 After this had happened two or three times my annoyance got the better of me. I asked the very next detractor how they expected to get their pears home in first class condition if I sold them to them when they were soft? I added that that particular variety took 7 to 10 days to be ready to eat and that at that point they would be dripping with juice. They overcame their scepticism and bought some, as did many others. They were among the many who came back to the same car boot the following year and said that they were so pleased that we were there again and could they have twice as many because the previous year's purchases had developed just as we described and were the best pears they had ever tasted! Sadly, I read later that pears that are transported out of season to Britain from the other side of the world are picked at a very unripe stage in order to travel without bruising. Many of these never ripen and just pass from rock hard to rotten. This was presumably why I was getting the initial response at the car boots. Personally, I would rather eat pears in their proper season when I can enjoy them at their best but there is a modern day myth that supermarkets can furnish you with any fruit at any time of year. Arguably they can, but it will be pricey out of season (those air miles are costly in more ways than one) and they only need to look good for us to buy them. Whether you can get your teeth into them or they taste of anything is another matter entirely!
We have four pear trees; two in the orchard and two on our first allotment. These are made up of three different varieties and we had them identified along with our orchard and allotment apples at Apple Days attended by the East of England Apples and Orchards Project. (If you live in the eastern counties they still have identification events for this coming weekend - October 20th/21st - first item, right hand column on their website). In recent years there has been much in the news about the declining number of apple varieties from the 1000 plus types bred by the Victorians but what is less well known is that during the 19th century an even greater number of pears were bred, especially in France. The names of the pears are no less impressive than their apple cousins: ours are Emile D'Heyst, Pitmaston Duchess and Doyenne du Comice. When we first took the lease on the orchard I came across a book in my mum's shop called The Fruit Manual by Robert Hogg. She very kindly gave it to me as the cover of the book is quite worn and but it makes fascinating reading. Robert Hogg was the  Pomological Director (how's that for a job title?) of the Royal Horticultural Society and the edition I have was published in 1875. Having written a description for each of the hundreds of pears he mentions, our own three varieties are amongst his personal creme de la creme at the end of the section. He describes our pear, Emile D'Heyst, pictured on the tree and ripe in a bowl (both above), as "A most delicious pear . . . tender, very rich, buttery and melting, juicy, exceedingly sugary, sprightly and with a fine rose-water fragrance". This is the pear that normally crops so prolifically that we stop counting at 1000! Now you will understand why we take some of our 'surplus' to the car boot. When we were picking samples to send for identification we were told to choose specimens of typical shape. But this tree had two typical shapes so we sent one of each. EEAOP's identification was confirmed by Hogg's line drawings of typical fruit shapes at the back of the book. The photo below shows his drawing with matching examples alongside.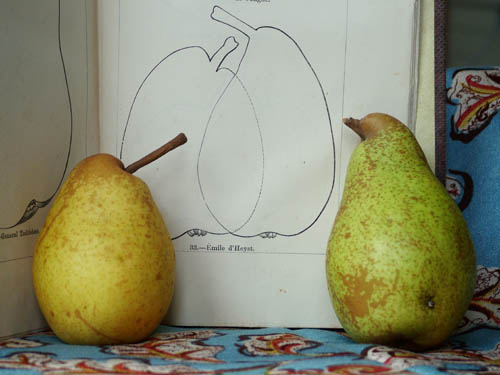 It was bred in Belgium in the 1840's and is apparently suited to growing in northern areas of Britain. This is also the tree that has benefitted most from having nut feeders suspended in its branches over the winter months. The tit family feed on the nuts and then pick overwintering bugs out of the deep crevices in the tree's bark. Pear's craggy bark makes it much more difficult to apply a grease band, as you can with an apple, and as we grow organically we avoid the use of chemical sprays. Last year the price of bird nuts rose enormously and we stopped putting them out; consequently this year we have more deformed and drilled fruit. I think I will start stockpiling nuts now in readiness!!!  As the picking season approaches, Comma butterflies like to sit and sun themselves on the ripening fruit.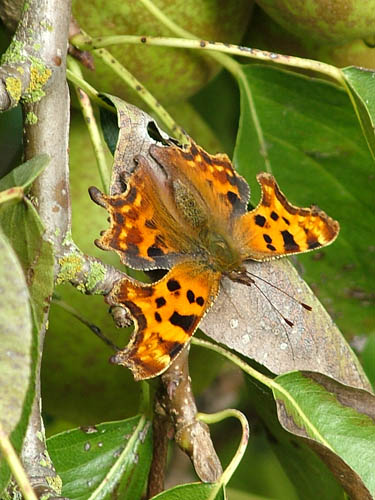 Doyenne du Comice or Comice as it is now more usually known is still a very popular garden pear. I think it must also be a good pollinator as we have one specimen planted next to the Emil D'Heyst on an allotment and another next to the Pitmaston Duchess in the orchard. If there are no strong winds during October/November, the fruit will stay on the tree after all the leaves have dropped. In the late afternoon sunshine it reminds me of the golden pear in the nursery rhyme I had a little nut tree. I use both the Comice and Emile D'Heyst for eating and for cooking with but they are better cooked before they soften or they are inclined to disintegrate in the pan. It's been a while since I added any new recipes on Being Creative so to reward you for your patience I am including two. The first is for Pear and Ginger Cake, which is beautifully moist and only requires mixing by hand and Chunky Pear and Walnut Chutney, the savoury equivalent of my Blackcurrant Jam, in terms of popularity.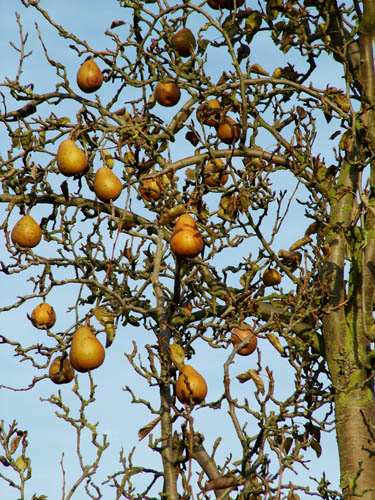 Our third variety is Pitmaston Duchess. Hogg describes it as "A very handsome pear of the finest quality . . . exceedingly rich with a sprightly vinous flavour and delicate perfume". Indeed the fruits are very large, averaging about 12 ounces in weight each and in a good season like last year they are apt to snap the branches of the trees. We were not really prepared for this. The first year the orchard was cleared the tree produced nothing. At that point we didn't even know for certain that it was a pear. The second year it produced about half a dozen fruit which fell off before we could pick them. We attributed the large size to the fact that there were so few of them. Last year they set lots of fruit and we presumed they would be smaller so didn't bother to thin them. The growing weight snapped about three branches off high up the tree and the wasps feasted on the fallen fruit. We let them get on with it and they excavated every ounce of flesh leaving only the papery skin and the stalk behind. Having learned their identity since then we had resolved to thin this year's crop and, for good measure, hung a Waspinator in it's boughs to deter any wasps bent on a fruit-fest whilst the pears were still on the tree. Sadly, in a year when our top fruit yields are down significantly overall, there has been nothing to protect! So we hope for better luck next year, though if all eighteen of our trees produced a bumper crop in 2013 we would really have something to worry about. Pitmaston Duchess is a triploid, like a Bramley, which means it needs two other pollinators and EEAOP advise me that triploids tend to produce vigorous trees with large fruits. It was once a popular garden variety at a time when fruit was grown for ornamental growth as well as for fruit. Hogg states that "The tree bears freely and is well adapted for pyramids, bushes and espaliers". Whoever planted our orchard was probably not familiar with Hogg's work; if so they might have heeded the advice "The fruit is too large for it to be grown as a standard". So we'll definitely be doing a spot of thinning next year!