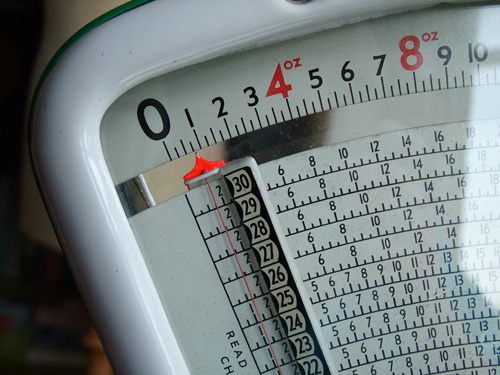 I cannot remember when I first set my heart on having a pair of original Avery shop scales. For a long time - although they had been superceded by modern electronic versions - they simply weren't available and then, once they were, they were either prohibitively expensive or too far away to be cost effective to fetch. If you look on Ebay even now their weight tends to render them a 'collection only' item, not ideal if they are at the other end of the country! I did spot the odd set now and again but there was always something wrong with them; invariably the enamel coating would be badly damaged or they were rusty from being stored too long in a garage or shed. Often the pan would be missing. To be perfectly honest I had all but given up on the idea and had filed them away at the back of my mind in the folder marked 'things that would be really quite useful if only I could afford them'. Then about a month or so ago, whilst browsing at the local car boot, I spied a typical Avery lozenge shaped pan but no scales to go with them. I snapped them up quick as I reckoned that I might now be in a position to buy a pan-less set of scales on ebay at a price I could afford. Once I got home however Ebay was sadly lacking in scales minus their pans that week but the hunt was on. The following week I went to the same car boot to help my mum. If you've read this blog before you will know that she has an antique business. She often has to buy some very mixed lots at auction in order to get the bits she really wants so inevitably some things end up at the car boot.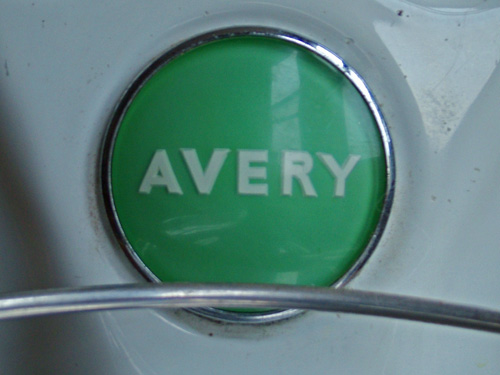 We are always very busy at first as the other dealers descend for the best pickings but after a while I went for a walk round. I had done about two or three rows when I saw them: a set of Avery scales right at the end of a pitch. I sidled up to them. Sometimes it doesn't pay to appear too interested. Things sold at car boots often have no price tag and less scrupulous vendors are inclined to up the price if they think you are really keen to have something. I looked them over quickly. They were not rusty, the enamel was fine, they had a pan (and the right pan, at that)! Better still, the sellers were not 'trade', as those in the business are commonly referred to. I casually asked the man how much they were. He said they were twenty pounds, that they belonged to his wife - who was serving another customer - and that he thought she might take less for them. I bent down to have a closer look. My heart sank as I noticed that the glass at the front of the scales was missing. I mentioned this to the man. He said that their daughter had broken it whilst they were moving house. I tried different objects in the pan and they appeared to weigh properly. As I did this I noticed that the front of the scales was held to the back with two screws. As it appeared possible to take it apart, it might also be possible to replace the piece of glass.I decided to take a gamble, particularly since they were about fifty pounds cheaper than I ever thought I'd have to pay for some. I asked the man what he thought his wife would be prepared to take for them and he said he thought fifteen pounds. I suggested he'd better check now that she had finished serving the other person; if they belonged to her I thought she'd better agree the price. To my delight she said that fifteen pounds would be fine but that she'd be sorry to see them go. I told her that I had been looking for some forever and that they would be going to a good home.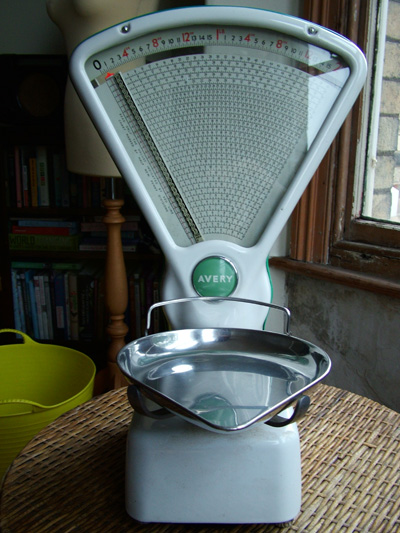 So today, Si' - my very own Mr Fix-it - has been having a look at them. First he unscrewed the two halves, then he made the template for the new glass. Whilst I was cutting up the first windfall plums for jam he went round the corner to the glass place and returned with a beautifully cut piece to match his template and a piece of emery paper to smooth the edges for the princely sum of two pounds fifty! He then had a think about what to use to cushion the glass against the frame and returned later from Wilkinsons with a roll of self adhesive draft excluding strip for windows. Getting it to stick where we wanted it to - and not to each other - was a team effort but we got there in the end and then it was time to put it back together again. And here is the result above! (Please excuse the slightly wonky angle. By this time it was about six o'clock and the light was beginning to go. We had to move the scales into the bay window and due to the age of our house our floors are anything but flat). It just goes to show that sometimes you have to have a bit of faith in the world and be prepared to wait for what you want. At one time I would have bought something I wanted straight away without a second thought but there is no doubt in my mind that now I place much greater value on having fewer things and treasure those most that I've had to save up/wait for. Also I feel there is much to be gained from the challenge of something being not quite as you wanted it. There is something very satisfying about solving a problem yourself, particularly when you have saved yourself a bit of money too. We knew at the outset that we had a range of skills that would help us in our downshifting endeavour but we also try to be open minded and are learning new things all the time. I hope our experiences encourage readers to have a go themselves. Even if you start out with the little things, success brings the confidence to tackle more. As the saying goes, "Great oaks from little acorns grow"! The pan on these scales is just right for weighing this year's orchard bounty and not a moment too soon: the cider-making season will soon be here!