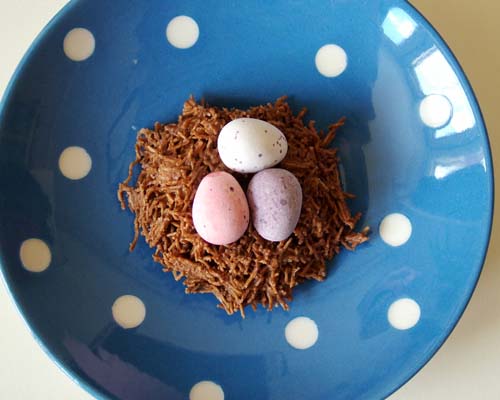 I have always had a special fondness for Easter time. To me it is the epitomy of Spring. Days are lengthening, the birds are singing their feathery little hearts out and Nature is well under way with another breathtaking visual display. The delicate appearance of Spring bulbs belies their more robust spirits as they tough out the temperature changes of this fickle time of year.The holiday provides the perfect opportunity to do, bake and sow and that other very British of indulgences - eat chocolate! I know that the recipes on this blog are always very popular and there are an awful lot of recipes available with chocolate in them to choose from. So it's been a case here of selecting two with Easter in mind. Now in many ways chocolate buying at Easter can not only be expensive and something of a rip off - actual weights are tiny compared to the cost of eggs - but something of an eco nightmare. All that packaging has to go somewhere afterwards and it doesn't really add to our enjoyment of the chocolate itself; it just stops the chocolate eggs from getting broken in the shops! If you have still to buy your eggs, M&S still do the box-free egg I mentioned two years ago. It's roughly the size of the average boxed version and costs about a pound ( having not bought any this year I can't be more precise). When my family were growing up we made the Easter nests shown above. It makes a small amount of chocolate go a lot further. The shredded wheat used for the 'nest' effect not only ensures some essential fibre in your sweet treat but is quite filling and helps to ensure they are not all gobbled at once! I made this batch yesterday. The chocolate is not costly Cadbury's but a mid range bar from Tesco by a comapny called Ryelands. It weighs 200grams and cost less than a pound. It actually tastes jolly nice too. They are great fun to make with children - especially if its too wet/cold to play out this weekend. It is always lovely to be able to hand round treats you've made yourself. Click here for the recipe. They make an 'egg'cellent addition to your Easter tea table and need no extra embellishment!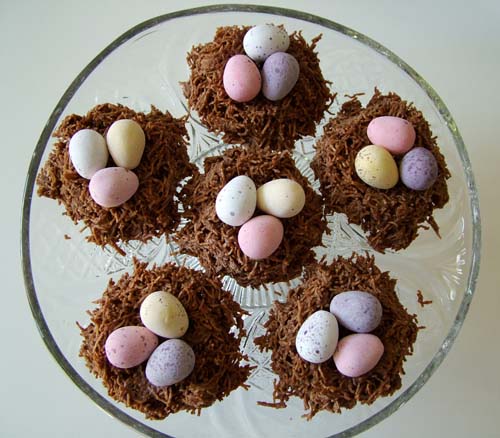 Now something for the grown ups. After all, we have spent a lifetime cultivating our appreciation of chocolate. I have hesitated in the past from including this recipe because - on the face of it - it is not cheap to make. However, it is extremely rich. Which means that you only need serve very slim portions at a time. I tend to make it at holiday times such as this when I have family visiting over two or more days and we can do justice to it. Ring the changes by varying what you serve with it. Raspberries are a particularly good contrast to the richness.At a rough guess I estimate £6.00 -£7.00 for the ingredients if you have to buy them all from scratch (not counting the alcohol, if you include it).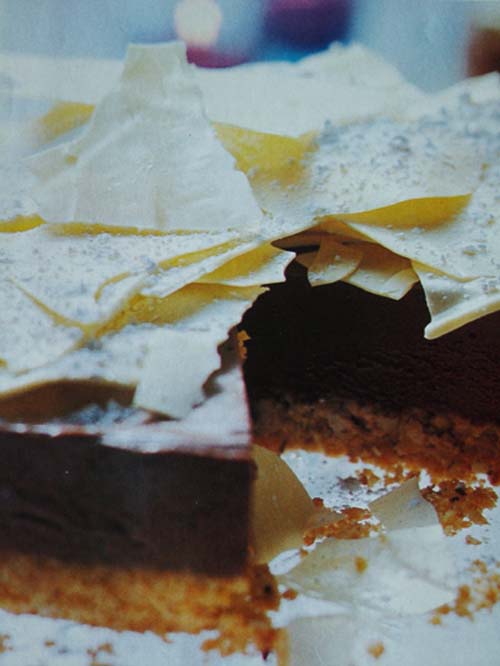 Most supermarkets have their own brand or similar of chocolate that is the next level up from basic or value ranges. Double cream is pretty much the same price everywhere unless you can get it on offer or buy it reduced near to its sell-by date. The original version used hazlenuts in the base but either you have to toast them to get the skins off - which is a faff - or you buy the de-skinned and pay through the nose. I used flaked almonds once because I'd foolishly run out of hazelenuts and use them as standard now for speed. This is one of those 'wow' puddings, a bit like meringues because it looks fancy and difficult to make. In fact it's quite straightforward and the recipe is here.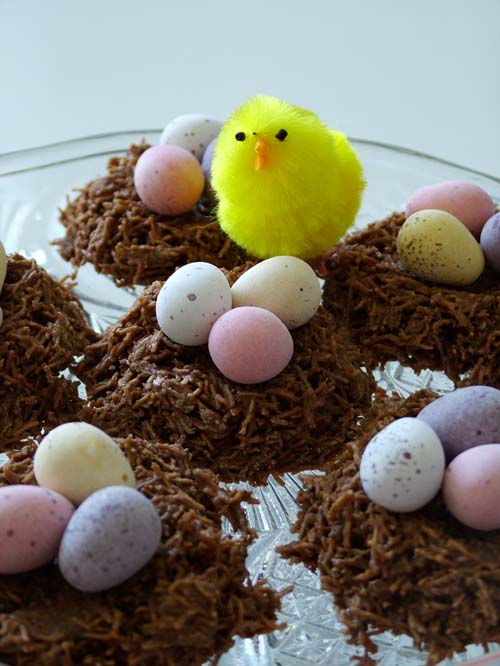 Like me, all three of my children are big fans of chocolate and - just like me - that pleasure hasn't diminished as they've become adults themselves. After I made the Easter nests yesterday my son, Adz, called round. En-route to the train for an overnight business trip, he left the house mid-way through eating one. Last night I got a text from him. It read "Bk tomorrow evening, please save me a nest". That's my boy! Hope you have a Happy Easter whatever you're up to this weekend.