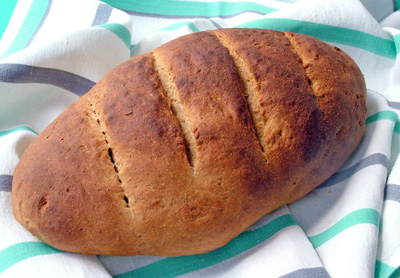 I find it an interesting concept that when I was working full-time, one of the most cherished of my - largely domestic - fantasies was to have the time to bake my own bread. Even then, I had long since given up on the cheap supermarket sliced loaf in favour of something we sliced ourselves that tasted better but with being out all day we wasted a lot of part loaves that went stale in our absence. There are only so many times that one family can enjoy bread-and-butter pudding to use it up! More than that, I was concerned about what we were asking of that bread: to look appetising, yet sit on a supermarket shelf for a couple of days and what extra ingredients had to be added to enable it to do that. In my grandparent's day - and still, very largely, in continental countries I've visited, like Greece or France - bread was bought, or made, fresh every day. My mother's generation were encouraged to leave behind the domestic drudgery of preparing three meals a day and to pursue full-time employment outside the home as a form of liberation. Labour saving gadgets - like the huge chest freezer that lived in our garage - were purchased with that extra income and could be filled with a week's worth of 'economy white sliced' until the next big shop. Taste and quality were exchanged for the cheap and expedient. One of my fondest memories of visiting my grandfather's house as a child was that he still bought proper Hovis loaves - with the name on the side - which tasted delicious! So although bread can still be bought for a song, it is rather like the jam I mentioned in my previous post, Jam today. If you want to have the best quality, it is cheaper to make it yourself than to buy it. Speciality rye bread in Tesco costs £1.38 for a 400 gram loaf. I reckon I made two 500 gram loaves at home, with a greater percentage of rye flour and including cooking costs, for less than the price of one of the Tesco loaves. You also have the added benefit of knowing exactly what has gone into it. We ran out of home-made bread on Sunday and bought a loaf of the said rye bread from Tesco to tide us over. As we were eating it for our lunch, I noticed it had a much stronger flavout than the home-made sort I was becoming used to and I asked Si' what he thought made it so strongly flavoured. I expected the reply to be something like the inclusion of more caraway but his answer was that it was probably sugar. It really put me off my lunch.
I decided that if I was going to go to the trouble - as I perceived it - of making my own, then I was going to invest in top-quality ingredients. We are lucky to live within striking distance of two windmills that produce stoneground organic flour. One is at Tuxford, in Nottinghamshire, whose flour we've bought at Retford farmer's market and the other is Mount Pleasant Windmill, at Kirton Lindsey in North Lincolnshire, that we buy from the mill itself. It is also available by mail order and is on my list of Sites to Inspire, Inform and Delight. The miller at Kirton Lindsey is very knowledgeable about what he produces and has been very generous with his advice, when we've sought it. I'd struggled to get my head round the best time of day to bake, that wouldn't compromise my daily routine. His suggestion - which has worked amazingly well for me - was to bake in an evening. I start mixing the ingredients and kneading the dough before starting on the dog's tea, so at about five o'clock. I then put it in our rear attic - which is warm and draught-free - to rise, whilst I start our own meal and Lucy and Si' walk the dogs. By the time we've finshed our meal, it has usually risen enough to be knocked back and placed on it's baking sheet, or in a tin, to rise again. I either wash up, water the garden, or both, while this is taking place. It goes in the oven whilst I read, or catch up with stuff on the computer. The miller said he left his out, to cool, overnight, ready for the following morning but I find it depends on the type of loaf and that some can dry out a little much on the crust for our liking. I tend to let it cool and bag it up to keep the moisture in. I've also gleaned a lot of useful information from three books I ordered through the library, Bread, from ciabatta to rye by Linda Collister, Dough, simple comtemporary bread by Richard Bertinet and The Handmade Loaf by Dan Lepard. I have found the first of these most useful for getting started and have only used it's recipes thus far.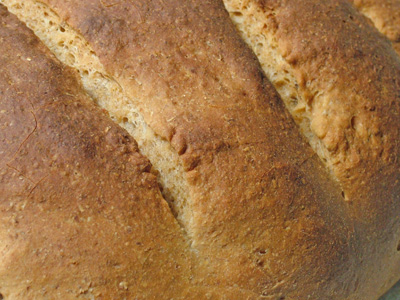 The other two seem more advanced but I have adopted some of their tips. Richard Bertinet suggests weighing your water as it is more accurate than measurement alone. I'd wondered why my first wholemeal loaf was so dry and when I weighed the water subsequently, found my plastic measuring jug to give a wholly inaccurate reading. Always on the look out for a bargain I bought this book, which contains an accompanying DVD, from The Works, for £4.99, a quarter of it's original price. As I don't have access to fresh yeast, I bought the Dove Farm dried quick yeast from Tesco. You mix it in with the flour and salt, before adding the liquid, and it's worked really well for me; much better than I ever achieved by starting dried yeast in water first. For a while, I toyed with the idea of getting a breadmaker but what I really enjoy is the kneading, so I decided against it. Kneading dough can be very energetic and is certainly less costly than the gymn for improving the muscles in your arms! I also find it therapeutic, working away the stresses of the day as the dough comes together to become springy and elastic. Apparently, it's not necessary to chuck loads of flour in with dough whilst kneading; as it's worked, and the gluten develops, it will stop being sticky of it's own accord. This gluten allows the dough to expand or stretch during fermentation and to trap the resultant gases to create a lighter loaf. The first bread I made was New York Rye with caraway seeds in it which gives it a lovely flavour. I was thrilled to bits when it rose to resemble those in the book and had great fun slashing the top of the loaves with a sharp blade to produce the slits in the crust. Being used to shop-bought bread, I initially thought it lacked enough salt but it provided the perfect foil for smoked salmon or toasted with slightly salted butter. My white bread looked as if it had spent time on a sun bed, being a slightly golden colour. This was because the flour is unbleached and it certainly made very tasty sandwiches with some boiled ham from our local butchers. Yesterday, I tried The Grant Loaf, invented accidentally by one Doris Grant in 1944. Linda Collister recommends it as the first recipe in her book to try as it requires no kneading and only one short rise in the tin. It uses more water than most recipes and in mixing it I was reminded of the story of Brer Rabbit and the Tar Baby from my childhood. Each time I tried to mix it with my hands, the mixture stuck more and more firmly to them! Eventually, I managed to get it into the tin but the recipe said to leave it to rise for longer than the suggested 25-35 minutes if dried, rather than fresh, yeast had been used. I went to look after 40 minutes and it had risen clear out of the tin and had begun to casacde down the sides of the tin. To make matters worse, the cylinder had run out for our gas oven and I'd already had to ask my mother to pre-heat her oven, to cook it, in readiness. I decided to trim off the surplus dough and keep it back for a future sourdough starter.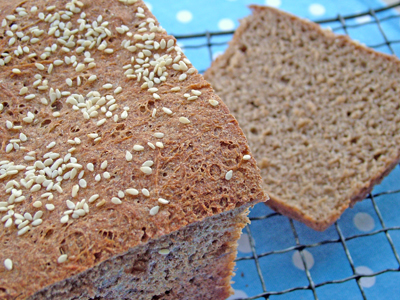 I sprinkled the top with sesame seeds, which gave a lovely nutty flavour, but you can use whatever seeds you have to hand. Once in the oven, the dough rose over the edges once again, making it very difficult to remove from the tin to see if it was cooked. Luckily, I managed to remove it in one piece and the resultant loaf was like nothing I'd seen before in wholemeal bread. It was well-risen and light but more than anything it was thoroughly moist. Having had so many problems producing it, I was going to warn readers against it but I must say it is thoroughly worth the effort. I think next time I will put the dough into two 2-pound loaf tins, rather than one, as the recipe suggests. It is still wondeful this morning and I am toying with the idea of some toasted for my breakfast, smeared with the new batch of gooseberry jam. What better way to start the day?