I used to have this quotation pinned to the library wall where I worked. I remember coming across it once in a catalogue of children's books and thinking how much it stressed the potential that libraries have to offer. Indeed, there really is nowhere like them, with their opportunities to sample every topic imaginable, free of charge, and they are a godsend to those living on a limited budget. On so many occasions I have come across books that have been recommended in magazines, or other books, and have subsequently been able to get hold of them through our county library service. I find the online catalogue particularly valuable, as I can search by keyword as well, so if I'm after books on breadmaking, as I was quite recently, I can look through everything they have on the subject, held in all the public libraries across Lincolnshire. To help me decide which titles will be most useful on any subject, I have the Amazon web page open simultaneously so that I can read other people's reviews and see how they've rated each title. It costs 25p to reserve a book from the online catalogue which, considering some of the books cost £25.00 to buy, counts as an incredible bargain in my book (excuse the pun)! Of course you only have the book on loan for a limited period but I think the beauty of this is that you are much more likely to read it, knowing there is a time limit, than if you actually bought the book and could read it whenever. The book then goes back to the library - rather than taking up space on your bookshelf - for other people to borrow which is, I suppose, the ultimate in recycling. I borrow all my fiction from the library but will often borrow non-fiction titles, prior to buying them, to see if I think I'll get the use out of them. Amazon's 'used and new' listings can often be a source of good buys here, as can Munn Books. They are both worth checking on a regular basis as their stock changes all the time.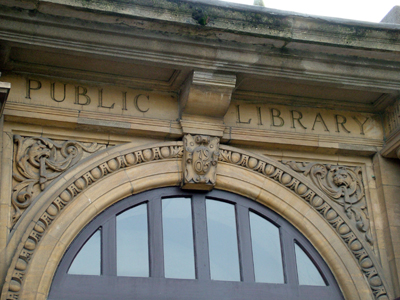 It's hard to believe that public libraries, in this country, have only been around since the mid-nineteenth century, following the Public Libraries Act of 1850. Even then, they were restricted to larger towns and the amount of money that could be added to the rates to pay for them was capped. It was not until a further Public Libraries Act of 1919, that the foundations were laid for the public library service we have today. Our own town library, shown above, was opened in 1905, the year my grandfather was born. When I was little, the twin joys of a trip to the library were the coloured wooden chairs and picture book boxes in the children's library and being able to 'skate' up and down on the slippery floor of the foyer! Until I was a teenager, it still had it's original reading rooms with long wooden tables and shelves of encyclopedias. Given that I am such a frequent visitor - and having liaised with them through my former job - I have become good friends with many of the staff there. They very kindly bring me their empty jam jars to recycle and in turn I 'test' my new baking recipes on them now and again. When I ran my school library, I was always encouraging pupils to join the public one to give them access to a wider range of books than one school library was able to provide. I suppose I had my ideal job, in many ways; taking such an enormous joy in books and reading myself, it was very rewarding to pass that enthusiasm on to my pupils. When they first started at the school, I always pointed out to them just how frequently I visited the town library to fuel my own passion for books. Judging by their shy smiles and greetings when I bumped into them there, I'm not entirely sure that they thought I'd been telling the truth!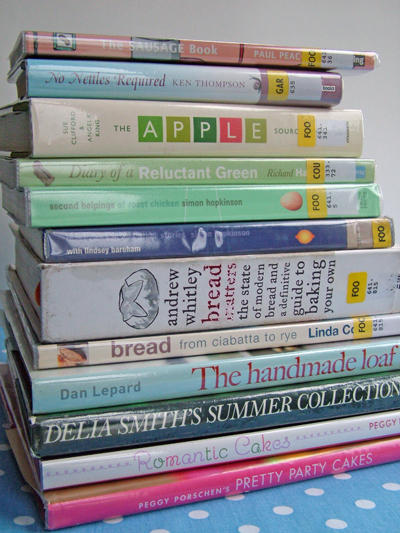 2008 is the National Year of Reading and events are being held up and down the country to celebrate. Though books are at the centre of this, all reading 'counts, apparently, even reading blogs like this one, so you can pat yourself on the back if you've read this far for having participated. The year is divided into monthly themes and December's includes blogs, so I must get plenty of posts planned for then! Of course, libraries are not just for books. Ours has free computer access, CD's and DVD's to hire - at a cheaper rate than local hire shops - photocopying at 5p per sheet and noticeboards full of posters and cards promoting local events and services. You can even read the daily and weekly papers for free! Appointments can also be made to view their collection of historical documentation on the town, including old maps and postcards. In fact the more I write here, the more I realise - like most of us - that I could make much more use of our library than I do. My current borrowings seem to reflect my current interest in food and cooking, with a smattering of gardening, green living and fiction thrown in for variety. Just at the moment, though, they are having to compete for my attention with the growing amount of bounty that needs harvesting and storing from the allotment. It's as well really that I have all those recipe books from the library at the ready! News and recipes from the 'soft fruit glut' coming soon!!!