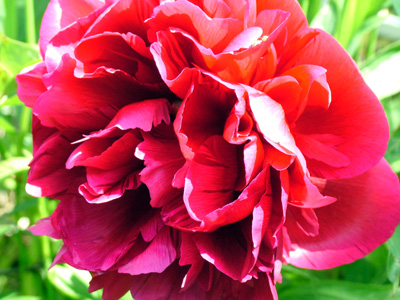 I considered calling this post 'Singing in the rain', as I was so delighted that we'd actually had some at last, but decided against it on sensitivity grounds. Readers living in the south and west might have sent me to Coventry, or to Hay-on-Wye, to stand on the festival site minus my wellies, as a punishment, after they've been subjected to a month's rain in a  single morning! We had rain here at the end of April, in the form of an enormous thunderstorm, and then nothing again for a month. Admittedly, the soil did stay quite moist for a couple of weeks but since then we've been watching the weather forecast in quiet desperation as all the rainclouds sailed in another direction. Such are the vagaries of the British climate, that while one half of the country drowns, the other is dried to a crisp. Peonies are temperamental plants at the best of times, and I just managed to capture the one above while it still had all it's petals. The poor thing struggled to flower through drought conditions and then the rain arrived and doubtless it is not looking so lovely this morning! The weather of the Mediterranean, with it's months of continuous sunshine, must have a certain appeal for those in the damper regions just now, but imagine all that watering? One of our allotment holders spent the first part of his retirement in southern Spain but one of the things he most missed about England was the variation in the weather and he came back here.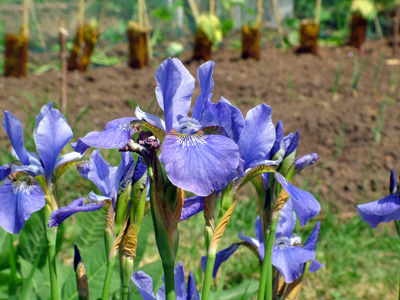 Our part of Lincolnshire is very forgiving with it's weather. Having lived in the north of Wales, where 'wet' was so often the default setting, rain here is usually followed by sunshine and a drying wind. This year, it seems to be accompanied by enormous fluctuations in temperature and unpredicted mood-swings. Yesterday morning, it was bright when I walked the dogs and reasonably warm; in the afternoon, I went to the allotment and could feel my skin burning within 20 minutes. As the temperatures rose, so did the humidity and it was a great effort of will to keep digging as my t-shirt slowly became sodden with the exertion. Later on, it clouded over, with a lovely cooling breeze, and in the evening it rained heavily for five hours. This morning the sky is overcast and, although the customary wind is absent, the pavements outside are almost dry already. Although the soil where we live is, historically, the silt of a floodplain, the further you go up the neighbouring hill, the denser the clay becomes.The allotments have better soil on the lower plots but the clay needs a lot of working to stop it turning into a rock-hard pan in the summer months. After heavy rain, like last nights, I always feel a desperate urge to rush up there and dig over as much as I can before the surface hardens again.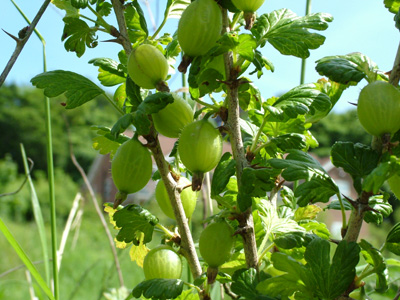 As you can see here, the gooseberries have benefitted from the rain. The fruit seems to set if the weather is dry but the bushes need a really good soaking if the fruit is to swell and ripen properly. Last year, as the summer was so wet, we had an absolutely bumper crop and I made most of it into jam. The blackcurrants, on the other hand, which normally give a reliable yield of 20lbs plus, provided half a bowlful! I've given them some wood ash this season, and manure, so I'm hoping they'll be back to normal now.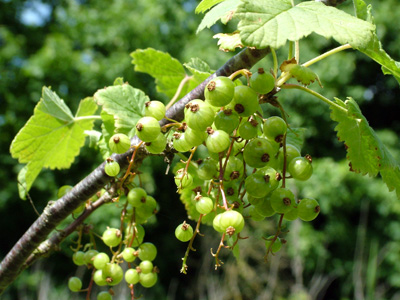 I've got about four redcurrant bushes, like the one above, spread over the two allotments, and they crop well every year. The trick with them is to catch the ripening fruit before the birds see it, or they strip the bush in a greedy frenzy, wasting half the crop as it falls to the ground. This week, Si' and I have bought some tanalised wooden posts that we're going to fix permanently around each bush and then just drape the net over at the last minute to keep the birds off.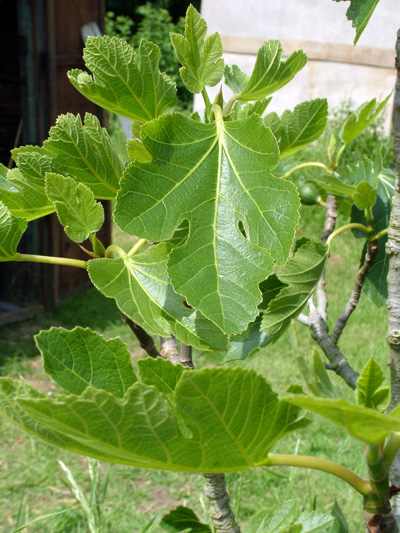 Our neighbouring allotment is gardened by a delightful Italian gentleman, called Lorenzo, who has given me some much-needed encouragement over the years. This is his fig tree, which grows in a circular wooden 'collar', presumably with it's roots in the ground underneath. If you look carefully, about two thirds of the way up on the right, it already has a fig growing! Si' was inspired to plant an outdoor vine, as Lorenzo's grows so well, and Lorenzo prunes it for us each year. The grapes are quite tart to eat but perhaps we might try making wine with them this year if they fruit well.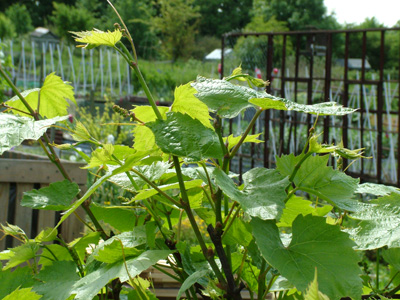 This year I was determined to suceed with broad beans. I normally forget to plant them early enough and they go in with the other peas and beans and do very little. This year I prepared the bed most carefully with home-made compost, sowed two rows in late March and planted a row of Dutch iris - bought from Lidl for a song - down the middle.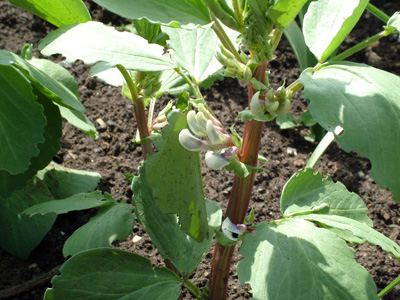 They are flourishing after the rain and just coming into flower. Fingers-crossed, there is no sign of the dreaded black fly yet but I'm ready for them with the insecticidal soap if they put in an appearance! (The Organic Catalogue have the best deal I've found on this; sold as a concentrate it will make 50 litres of spray for £15.85, as opposed to the ready-to- use version at £6.95 for one litre!) During the hottest part of the afternoon, I took a quick break to visit my gardening friend, Kathy, only a short stroll away. She has the most beautiful garden, that she started from scratch when her house was built, and she has raised most of the perennials in it herself from seed, or has gained them by swapping her home-grown plants, for different varieties, through a garden exchange scheme. What an excellent way to fill your garden for very little outlay but with all the fun of growing and swapping plants with like-minded people. I came away with some cactus-flowered dahlia plants, a bergenia and a clematis tangutica (the one with yellow flowers). Her family enjoy my blackcurrant jam, by way of a swap!
This leads me nicely to another exchange and that is of names on blog lists. A very nice man called John Harrison, who has the site that's featured at the top of my blog list, 'Allotment Growing', has added me to his site, on the Green Living Information page. A warm welcome to you if you have reached Being Creative from that site. I feel quite excited to be included as John's is the most popular allotment website in the UK. I first discovered it when I had delusions about keeping hens in our handkerchief of a garden. Thankfully, there is plenty of good information on poultry keeping, enough to dissuade me from such a reckless course of action. John has also published a book on vegetable growing recently and you can order a signed copy from the site or see if your local library has it in stock. From the forecast, it looks as if everyone can expect a little sunshine over the weekend; I hope it shines on you!
While you're here, be sure to enter my 30th post competition. The prize is a professionally printed copy of one of my photographs. For details, go to the end of my last (30th) post, 'A dog's dinner'.