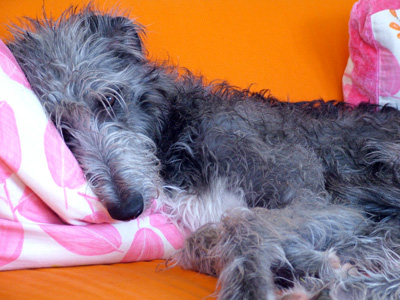 In my last post, I mentioned that I was thinking of holding a little competition to celebrate this, my 30th post, with one of my photographs, printed professionally, as a prize. I asked for reader's thoughts on this and the response was an overwhelming, "yes, please!", so the competition details follow on below, after this dog tale (or should that be 'tail'?). I had hoped to launch it over the weekend and apologise if you were looking eagerly for it. Typepad - who host this blog - have made some changes to their site and I am trying to get to grips with them. I think I mentioned previously that I am not naturally gifted with computer software and, given that it took me quite some time to find my way around in the first place, I confess to being more than a little peeved that I have to re-learn several aspects of it now. In a few posts time, I will probably be singing its praises and wondering how I ever managed with "the old way". Until that time, please bare with me through the gnashing of teeth!
Looking through my most recent posts, it's been a while since I wrote anything about my 'boys'. I took the photo of Hector some weeks ago, whilst he was taking an illicit nap on the upstairs sofa. Hector and Zephyr have a sofa each downstairs and in an effort to maintain a hair-free seat up here, this particular settee is normally considered out of bounds. I was typing on the computer at the time and am not sure which surprised me most; that Hector had taken an interest in this settee, when normally he doesn't bother, or that I had completely failed to hear him climb up there. When I am upstairs, I can normally tell by the sound of their progress, which dog is approaching to seek me out. Zephyr is so gentle on his feet that sometimes I don't notice him at all until a wet nose is thrust under my elbow to alert me to his presence. Hector, on the other hand, has all the delicacy of a herd of stampeding wilderbeest, and has been known to collide heavily with the newel post from time to time, in his haste to get downstairs. Despite that minor shortcoming, he has maintained the sunny disposition he had on arrival with an "I'm-so-lovely-let-me-give-you-a-big-wet-kiss" attitude to life. He does, however, have grave misgivings over travelling in the car and about being brushed! To be fair, we took him with us to the car boot on Sunday and he never made a whimper, so I feel we are making progress there but the brush is quite another matter. When Zephyr first arrived, we brushed him regularly as his coat is thick and coarse and he parts with it most generously. Conversely, Hector came with such a sparse, silky covering over his pink skin that I was loathed to brush him for fear of scratching. His coat remained thin for quite a long time and then, suddenly, he was sporting a thick adult coat and needed an introduction to 'Mr Brush'. Even the mention of it is enough for him to vacate the room at speed. We have tended to give up in the past, as deerhounds are renowned for being terrible wusses, but now the writing is on the wall for Hector. We have recently received our copy of the schedule for 'Long Nose Day', the fun dog show held annually by Lincolnshire Greyhound Trust to support their work. Armed with a new 'slicker' brush and a bag of little dog treats - for bribery - we can get him to keep still for five minutes at a time now, if Si' holds him on his lead and I do the brushing. Deerhounds are supposed to be brushed every other day, so we're told, but we're making a start. Interestingly, Hector's dad has a similar hatred of the hairbrush, so he must have inherited it from him!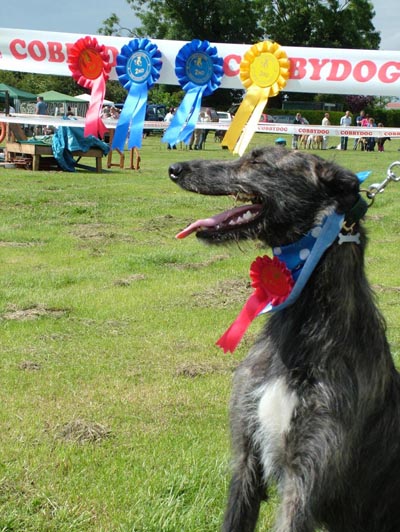 Zephyr, though, loves to be brushed and will stand, appreciatively, while you get on with it. Here he is, looking proud, with his collection of rosettes, at last year's event (photo, courtesy of Si'). Showing dogs on a regular basis has never really been our bag but we do like the idea of them mixing with other dogs and it gives us the opportunity to get to know other dog owners, with similar breeds of dog, in our area. In addition, we are helping to raise much-needed funds and enjoying ourselves into the bargain. A friend I used to work with first suggested we went last year when Zephyr - though you wouldn't know it from the picture - was still a puppy. She has a lurcher herself, whose party trick is being able to jump clean into her arms; fortunately he is not as weighty as either Zephyr or Hector! There are classes for other breeds - beside greyhounds and longdogs - and they can compete in novelty classes, such as 'Best Six Legs' and 'Nicest Head', in addition to the more standard ones. Each class only costs a pound to enter, so it is an ideal downshifter's day out and much more fun than spending Sunday at the shops. Hector's breeder is probably going to come along with Hector's mum and cousin and, quite recently, we discoverd that a deerhound we met there last year is actually Hector's half-brother. Lucy will come with us, too, so it could turn out to be quite a family day in every respect. I am hoping to make a few cupcakes - complete with fondant paw prints - to contribute to the refreshments. Later this week, we are hoping to extend Hector's car-tolerance further by taking him for his first trip to the seaside. As luck would have it, 'Seaside Capers' is one of the categories for the show's photo competition this year, so I shall be sure to take my camera. Given that Zephyr rushes about on the beach like a total loon, it will probably be much harder to get Hector to keep still long enough to photograph him at the seaside at all. Never mind; if the picture is a blur of movement it will be because he took the 'capering' to heart! 
The 30th Post Competition
I am really excited about launching this - my first - blog competition but since I sometimes miss things out in my eagerness to get started, do let me know if I forget to include any vital information. The prize is a 10" by 8", professionally printed matt photograph of one of the four choices shown below. It will be sent to you in a rigid cardboard envelope as quickly as the printer's workload allows after the closing date, which is Tuesday June 10th.
To enter:-
All you have to do is post a positive comment on the site and select which of the four photos you'd like to receive if your name is pulled from the hat first. 
Your comment can be about:-
any of the thirty posts, not just the most recent

your own favourite post/category and what you would like to see more of

whether the

blog

has been particularly helpful to you in any way
Please choose from the photos below:-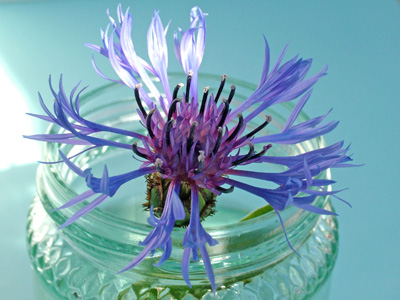 A) Centaurea in jar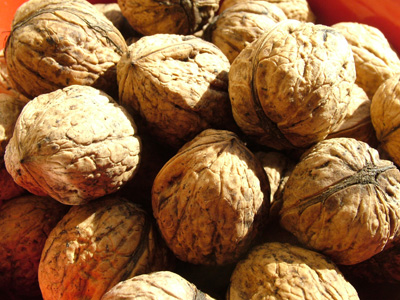 B) Walnuts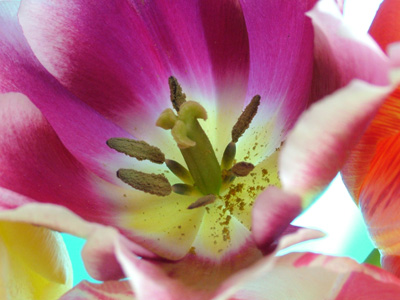 C) Tulip, close-up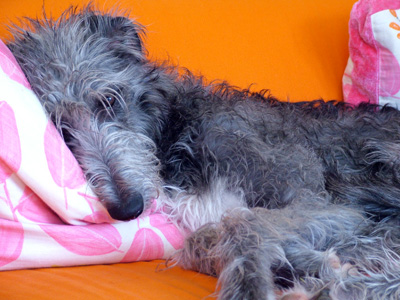 D) Hector on forbidden sofa!
You've got two weeks and counting, so 'be creative' with your comments now!