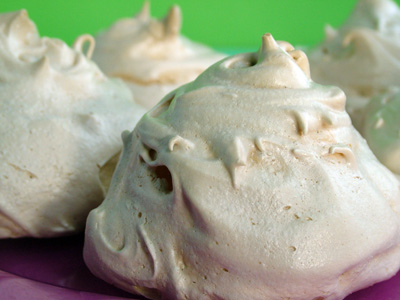 I love making meringues. They are quick, easy and taste a million times better than anything you can buy in the shops. Also, as Nigella Lawson will tell you, "people really do seem far more impressed by a home-made pudding, however simple, than they would be by the most lovingly produced main course". For years I thought they were difficult and the preserve of 'good cooks' but I've found that if you can wield an electric mixer then you can make your own meringues. I buy free-range eggs, from the greengrocer, that come from a village on the edge of town (so are low in food miles) and I find I get much better results with these than supermarket eggs. Nothing is wasted, either. The egg whites go into the meringues, the dogs have the yolks with their breakfast and the shells and cardboard box find themselves in the compost bucket. I keep meaning to make an egg custard with the yolks instead but have not quite got there yet. My mum loves meringues and so last night I made her a batch for Mother's Day.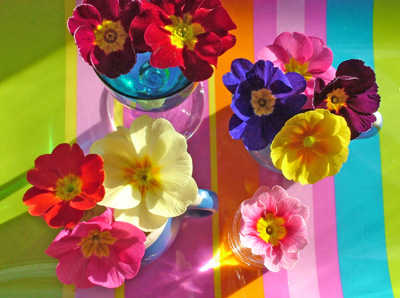 The meringues in the photos are, in true Blue Peter fashion, some I made earlier (in the week). On the same day, I bought some lovely primrose plants for the front garden in a multitude of gorgeous colours. Since I had the camera out to capture the meringues, one thing led to another and soon the upstairs sitting room had been transformed into a makeshift photography studio full of food and flowers. First I snapped the meringues, then took some shots of the primroses that I'd picked and arranged in tiny containers. Inevitably, I began experimenting with taking photographs of the two together.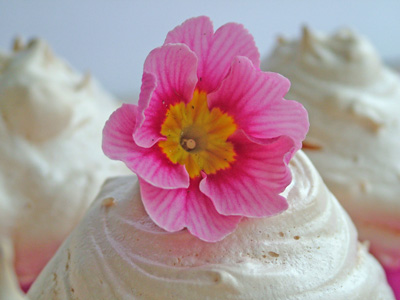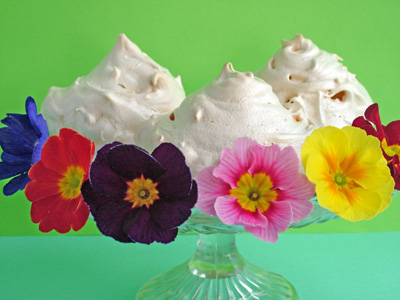 I spent a very happy hour snapping away until the light began to fade and Lucy arrived home from school. Once the meringues had served their purpose as photographic props we felt quite justified in eating them....
As for the primroses, I have spent a most contented Mother's Day afternoon planting them into our tiny front garden to compliment the miniature daffs that are already in bloom. Massed together, they look almost good enough to eat!