Last week was half term here and with my daughter, Lucy, having the week off we walked the dogs together, instead of the two separate walks I normally do on my own. This freed up some valuable extra time to embark on a round of card-making. The early part of the year is quiet for us in terms of birthdays and other family celebrations but following Valentine's Day they arrive thick and fast from late February and then gradually peter out towards the summer. Added to these, of course, are Mother's Day and Easter and as I hate doing things at the last minute - but invariably end up doing them then - I decided to start early.
I ordered some books from our local library and had a practise go with this one for my niece, Lily.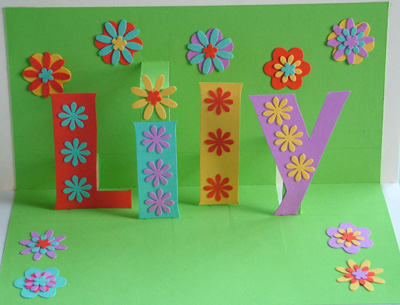 I quickly learned how crucial it is to get all the measurements correct before cutting the pop-up supports with the craft knife. It's not as if you can un-cut it afterwards and hope it will heal up again, unlike my self-healing cutting mat which I find invaluable. I also found it hard to get the letters to stay upright if I attached them with glue alone so I've bought some double-sided tape for future cards. Once I'd cut out the letters I had some small leftover bits of card from around the edges. I was going to add them to the compost bucket and then I remembered my paper punches. I use mine quite a lot (see next post) and I've picked them up from art and craft shops but also from branches of The Works and from our branch of Boyes, which has quite a big craft section, too. Punching the flowers out and then assembling them into different designs and colours was great fun and I stuck them together by applying the glue in little dots with a cocktail stick. Once it was all dry I made a loop of ribbon to fit round the card to hold it shut so it could go into a rigid cardboard envelope for posting.
Having got to grips with this one I was inspired to make a Valentine's card for my better half. I traced the rabbit from a template in Petra Boase's Quick and Easy Handmade Cards and then cut out what I thought would be a big enough piece of card for it to 'pop up' from. It was only when I put the bits together and shut the card that I realised that the top of the rabbit's ears protruded from the top. Having cursed myself for my poor measuring skills once again I realised that it actually gave a tantalizing glimpse of what was inside!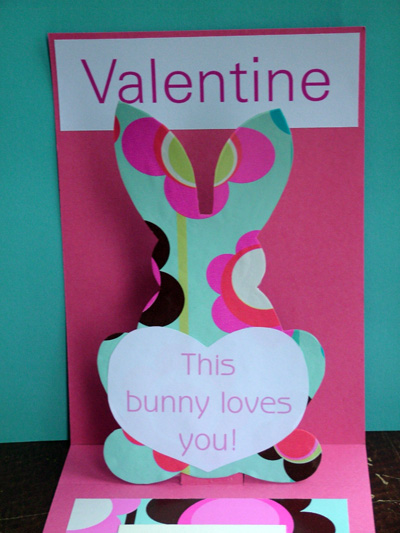 Both cards were well received, I had great fun making original creations and I probably saved myself a couple of pounds into the bargain.
My third card, which I completed last week but have actually been working on for longer, also used a design from Petra Boase as a starting point. It's for some neighbours of ours who have just had their first baby. The original design had the baby's name stitched directly onto the felt but I'd just saved an article on monogrammed cross-stitch letters from an old magazine and so decide to cross stitch it onto Aida ( the woven cross-stitch fabric) instead. To ensure that the buttons stood out from the card I attached two strips of iron-on interlining to give a firmer backing than just the felt alone to stitch through.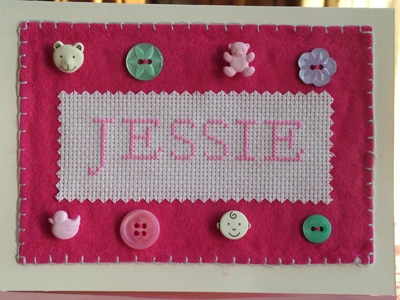 Petra Boase also gives instructions in the book for making a simple envelope. I made mine out of wrapping paper but I would probably use brown paper or something equally strong if I was sending it through the post.