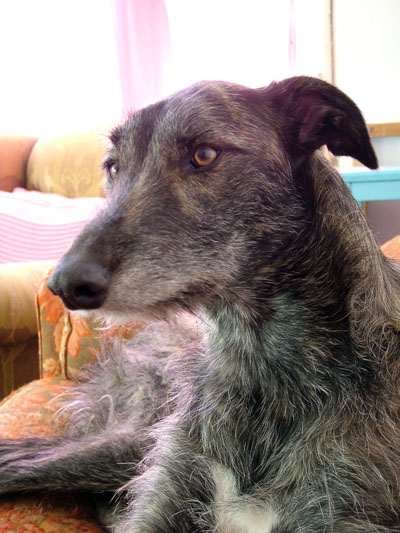 Here is Zephyr chilling in his favourite spot - the sofa - on a sunny Sunday morning.It's a popular myth that lurchers need loads of exercise but he likes nothing better after his morning walk than forty winks in a warm and comfy spot until tea time! Oh, and the odd biscuit after a bout of rough and tumble with his pal, Hector.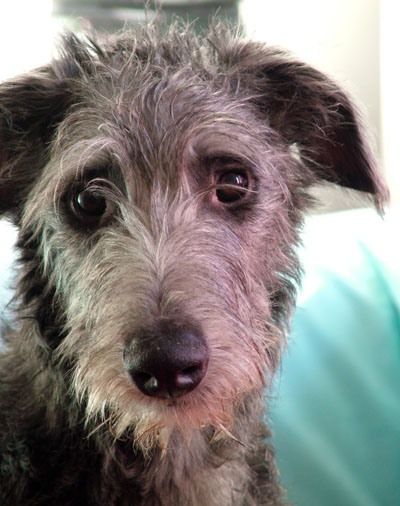 This is Hector. He is a six month old Deerhound puppy whose expression says that butter wouldn't melt in his mouth. Thankfully the butter is safe in the fridge but the very nice Hobbs scarf I bought from a charity shop for 50p on Saturday melted effortlessly into fine woolly shreds on the sitting room carpet!We are overlooking this departure from his usually charming behaviour on the grounds that Zephyr did so much worse on a regular basis at the same age. I was just considering their respective temperaments in terms of weather: Hector, whose general demeanour suggests sunshine in a cloudless blue sky and then Zephyr who, in meteorological terms, would be 'unsettled'. One moment you have the sunshine and the next a torrential downpour, triggered by nothing more complex than a plastic bag waving in the wind! As he grows up he is becoming calmer and we can detect steady progress towards high pressure! They do say, though, that opposites attract and these two are the very best of friends to each other, not to mention very dear companions to me.
My day begins with a cup of Earl Grey tea and a snuggle with my two boys who need no encouragement to abandon their own beds in favour of mine!